Liberia's Sirleaf makes rival Weah peace ambassador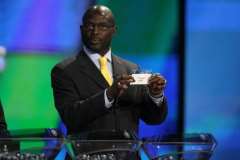 MONROVIA (AFP) - Liberia announced on Wednesday that President Ellen Johnson Sirleaf had appointed opposition leader and football legend George Weah, her former election opponent, as the war-scarred African nation's new peace ambassador.

Weah, the leader of the main opposition Congress for Democratic Change (CDC), "is now the new head of the peace and reconciliation committee", the information ministry said, adding that he was appointed on Monday.

The move came after Sirleaf met with the opposition in November in a bid to improve a tense relationship after a disputed election last year that was marred by violence.

Weah vowed at the time to cooperate with the ruling party, telling reporters: "If we don't cooperate with the government, and allow it to fail in meeting the needs of the country and its people, it harms everybody."

Weah, one of the top footballers of the 1990s and the first African to win the world player of the year award, lost to Sirleaf in a run-off election in 2005 that made her Africa's first democratically elected female head of state.

Sirleaf was re-elected last year in polls disputed by her CDC opponent Winston Tubman, who ran on a ticket with Weah as his vice-presidential candidate.

As peace ambassador, Weah succeeds Nobel Peace Prize-winner Leymah Gbowee, who resigned in October over what she said was a failure by Sirleaf -- her 2011 Nobel co-laureate -- to root out corruption in the country.

Liberia was shattered and its people traumatised by back-to-back conflicts between 1989 and 2003 in which around 250,000 people were killed.

While the country has slowly rebuilt itself, underlying issues behind the war have never been fully addressed, and last year's polls exposed the fragility of its recent peace.