Abeka Lapaz gutters filled with filth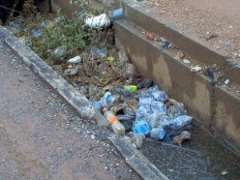 http://ghanaian-chronicle.com/abeka-lapaz-gutters-filled-with-filth/im000470-jpg/  by Dora Akyaa Asare

It has come to the notice of the Accra File that most residents of Abeka Lapaz and its surrounding areas have turned their gutters into rubbish dumps.

The gutters in front of their houses, containers, shops and bus stops are filled with rubbish and this prevents waste and rain water from flowing freely.

The worst part is that whenever it rains, it carries the rubbish and deposits them at places, where they begin to attract flies, thereby putting the community at the risk of infectious and communicable disease.

Speaking to some residents around Abeka Market, Free Pipe, Fadama Junction and Nii Boi Town, they expressed worry over the gutters being choked with rubbish, adding that it had increased the number of mosquitoes in the area, increasing the risk of malaria.

Some traders who sell fresh fish and food along the streets of the aforementioned places expressed their worry that because of the filth, the resulting increment in flies had resulted in the low patronage of their produce.

At the bus stops passengers grumble that due to the stench from these filthy and choked gutters, they find it disgusting and unhealthy when they have to stand by the roadsides waiting to board vehicles.

'We prefer to walk whilst waiting for the trotro than to stand at the bus stop which is filled with stagnate water and filth,' They complained.

According to some residents it was the duty of the Accra Metropolitan Assembly (AMA) to clear the gutters of Lapaz and its surrounding areas, and the Accra file is asking the public and the management of the AMA: 'Whose duty is it to clean the gutters of the towns and cities, is it the AMA or the residents?