NPP-HOLLAND HOLDS ELECTION 2010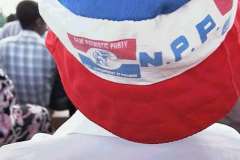 AMSTERDAM Feb. 16. The Holland branch of Ghana's largest opposition party, the New Patriotic Party (NPP-Holland), has held elections to choose executive officers to run the affairs of the branch for the next four years. Hundreds of Ghanaians resident in Holland joined party members, sympathisers and well-wishers for the occasion which took place at the newly constructed, state-of-the art activity centre Kandelaar, located in Amsterdam South East. The election, which took place at the weekend, was ably and professionally supervised by a five member electoral committee chaired by Dr. Kwabena Adansi Pipim of Afapac.

The Vice Chairman of the NDC Amsterdam branch, Mr. Augustine Quarshie led an NDC delegation were ushered in amid applause and shout of Ehe Ejo Bodoor!, "WHO BORN DOG?" and Emefa! Mia mia! from the audience. In his brief message, Mr. Augustine Quarshie cautioned members against the habit of chastising executive officers with animosity at the slighted opportunity after they, the same members had elected the officers amidst fun fair and jubilation. He called on them to support their elected officers till the end.

Mr. Kobby Annan, the incumbent Chairman was overwhelmingly voted for, to retain his position. Other officers who maintained their positions were Mr. Kofi Amoako Gyampa, as vice Chairman (Amsterdam Chapter) Mr. Charles Owusu Ansah as Secretary; Mrs. Anna Asare Oduro, as Women Organiser; Miss. Kessewaa Ampadu Minta, as Deputy Women Organiser. Mr. Krobea Asante was elected as Organiser, Yaw koampa Ahenkora as Vice Secretary, and Mr. Desmond Darko Mensah as Treasurer.(a.k.a Hon. Kwame Ama) The offices of Financial Secretary and P.R.O are to be appointed by the New Executive Officers within one month.

In a brief acceptance remark, the Chairman, Mr. Kobby Annan thanked the NPP members for the trust reposed in him and his team and called for moral and financial support from members and the Ghanaian community at large. He said there was evidence that Ghanaian voters are anxious to vote the NDC out of office in Dec 2012, but cautioned that victory will not come without hard work. "Our Members at home and abroad are crying out for an NPP that is decent, sensible and united to be able to win the election aimed at Ghana's development and improving lives of the people. He indicated that his team is poised to work in collaboration with party headquarters and other external branches to improve on the party's record of decency and unity.

Mr. Annan also thanked the NDC delegation and commended them for their message and exhibition of Great Spirit of unity by honouring the invitation at a short notice. He asked them to convey the NPP-Holland's heart felt sympathy to former President J.J Rawlings and his family, given the challenges they are currently facing as result of a fire outbreak that entirely devastated their home earlier this week. Mr. Annan also dropped hint of an up coming NPP Europe Conference in 2011, to be jointly hosted by Holland and Germany. If it does happen, it will be the third NPP Conference overseas and but first to be held on the European continent after NPP UK and NPP USA hosting.

Ghanaian political Candidates from Dutch political parties who are contesting for seats in the local council took advantage of the occasion to mount the stage to campaign towards the March 3rd local and district council election. Miss Ama Carr, Miss, Augustina Osei and Billie Kwayie are all on the tickets of the Pvda (Dutch Labour party) whilst Dr. Kwabena Adansi Pipim is on the ticket of the D66, a Social Liberal party. Nana Yeboah Dabanka Life patron of the NPP-Holland, expressed great satisfaction at the outcome of the day's event and admonished Members against complacency and called for unity among the rank and file of the party members in Holland.