Chinese scholarships for 35 Ghanaian students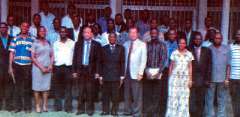 Mr. Wuang Lushang (sixth from right), Charge d'Affaires of the Embassy of the People's Republic of China, with the Beneficiaries

Ghana waved an emotional farewell to 35 students' who have been awarded with Chinese scholarships to study across a range of Universities in various cities in the People's Republic of China.

The Ghanaian students are from diverse backgrounds across the country, and will study in China for up to three years. The programme between the respective governments is part of a wider Chinese sponsorship of educational institution in Ghana.

The occasion was marked with a reception at the Chinese Embassy in Accra yesterday.

Since 2006, China has provided short-term training opportunities for about 700 Ghanaian Officials, Professionals, and Technicians, as well as increasing the amount of scholarships from the original 20 students in 2006.

The Chinese government has also sponsored the construction of three rural model schools in the Greater Accra, Central and Western Region this year  and sent two lectures and volunteers to teach the Chinese language at the University of Ghana.

The Chinese Government Scholarship is a full scholarship set up by the Ministry of Education of China to enable foreign students to study in China. The purpose of the scholarship is to encourage and support international educational exchanges  and to establish internationally first-class Chinese Universities.

The emphasis on education was stressed by Charge d'Affaires of the Chinese Embassy, Mr. Wang Lushan, who delivered the opening address at the reception. 'Education is very important for a nation's development,' said Mr. Lushan.

'In recent years, the bilateral co-operation on education under the framework of China-Africa Co-operation Forum has yielded fruitful results,' he stressed.

Mr. Lushan stated that the Chinese government's support to Ghana and to Africa 'is in the right direction of bringing up human resources for the development of Ghana in the future. China will continue to provide scholarships, training courses and other forms of assistance in education to Ghana.'

He stated that'the two countries have a lot in common due to their pursuit of national development and social advancement. 'China's efforts to integrate a rapidly developing market economy with its political and social structures in recent decades have opened opportunities such as this for both Chinese students abroad and non-Chinese students wishing to study in China.'

Mr. Lushan told the students: 'You will not only apply what you have learnt in China to build a better Ghana, but also serve as 'Ambassadors for Friendships' between our two peoples.'

A representative of the students, Mr. Halid Mahama, expressed 'extreme gratitude' to the governments of China and Ghana as well as the Registrar of Ghana Scholarships Secretariat, Mr. Fuseini Lansah, stressing that 'to whom much is given, much is expected'

On behalf of his colleagues, Mr. Mahama said the opportunity will enhance their experience both academically and culturally and pledged that they will dedicate themselves diligently and conscientiously to their studies in China and contribute to bring the two countries closer.