Discussions
Opinions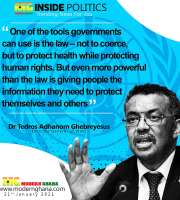 Relevant Links
Media Links
Should we fix our attitude or fix the country?
19-05-2021 | 14-07-2021 | Closed
Votes: 2474

COMMENTS
Biggy | 5/19/2021 1:58:15 PM
Osagyefo Dr. Kwame Nkrumah told we GHANAIANS to change our attitude right after independence else Ghana will be as it is today,so we are yet to heed to his advice ,else CORRUPTION, SELFISHNESS, FAVOURITISM ,LAWLESSNESS and our NEGATIVE MENTALITY WILL NEVER SEE US THROUGH.
REPLY
3 Replies
Karl-Heinz Heerde | 5/21/2021 5:58:35 AM
Both depend on each other

REPLY
KIKO | 5/21/2021 8:27:10 AM
Stop stealing from your employers, go to work on time, throwing garbage at wrong places, drive at the right speed and with the required licenses, pay your taxes, report tax evaders, stop building at wrong places, stop making noises at the wrong time, stop sitting in church forever and look for a job, don't get involved in armed or any type of robbery, etc, and the govt should pay the right salaries and check to ensure that corruption is stopped.

Journalists must speak the truth and stop inking that their freedom to publish shouldn't come with responsibilities. They should also stop blackmailing others.
REPLY
1 Reply
Beema Yaw | 5/22/2021 1:13:10 PM
Changing our attitude will fix a lot.of the problems we have as a country.

In years gone by good service was rewarded after it had been rendered rather than asking for a bribe before the service was performed. Let's go back to those values.

Let us be proud of our country and therefore our environment. Our urban areas are so dirty and we have to accept responsibility and change our habits of dumping refuse and throwing plastic bags and bottles every where.

Our leaders need to change their attitude as well. They should be mindful of using the country's resources. Why ride in luxury vehicles when the roads are in dire need of repair?


REPLY
Labadi Kunateh | 5/23/2021 8:28:38 PM
Th country should be fixed using our attitudes. Our mean concern is the country to be better in terms of education, health, agriculture, roads, etc. It's never too late our leaders.
REPLY
Raf Abdul | 5/24/2021 3:19:54 PM
With the right attitude, fixing the country will fall in place. After all, why are there policies, laws, regulations and so on?

We need to have a secound look at ourselves (attitude in general) from Top -down and vise versa.

And make a positive change.
We cannot plant grapes and harvest apples.
We are exactly where our attitudes have placed us as a country.


REPLY
Bright from Berekum | 5/24/2021 3:32:26 PM
A working system will lead to a working attitude. If the country is fixed by providing the basic needs automatically fix your attitude. Why do we obey rules when we travel to US for example? The whites are like us in fact they(white) will equally mess up like we do here when basic need not available. For example, where there are no dusting people throw rubb**h around so provide dustbin and see if the rubb**h around won't reduce
REPLY
Sir Michael Laryea | 5/27/2021 10:24:26 PM
When there are strict laid down rules and recalcitrant are penalised when they break them, people will automatically fix their attitude. How do you expect people to fox their attitude when leaders who are to lead by examples are seen breaking rules daily? How can we fix our attitude when there things have fallen apart? After the fixing the problems in the system, attitudes will invariably be fixed
REPLY
Boateng kwadwo | 5/29/2021 1:52:11 PM
Fixing the country depends on the citizens. We must fix our attitude first before the country can fix itself.. Because once we fixed our attitude, automatically the country will fixed itself..
REPLY