Media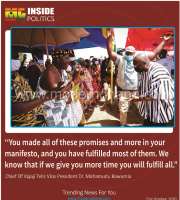 Relevant Links
Media Links
That night Here I am, reminiscing on what happened yesterday.
The time that my only prayer was for God to make a way.
Really hoping someone very dear to my heart makes it to the next day.
I lay on my bed thinking, dear God is he okay?
Please protect him wherever he is , even if its anything I'll pay.
Please Lord don't give up on me.
I know it was only yesterday I told him to let me be.
But I've got very serious love for him and it is now I see.
Ewurade if you take him away from me how ago fit pay my fees?
Who will motivate me to do better if I come home with Cs?
He is always like, in the future this my boy will surely fly me overseas.
If it's a punishment too, please forgive me cos I know I've done many wrong deeds.
Help me lord, please I'm on my knees.
I be the first born chale, else life go be hard.
If this man no make am, me I for step in as the Dad.
Protect him lord, please you have to.



Author: McCyril Sedem Akussah
---
---