Media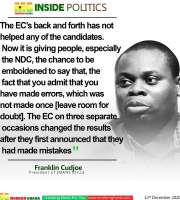 Relevant Links
Media Links
Urban Scarlet She looks curvy like cocacola
And dark as chocolate
Beaming like the morning sun
And shining like a firefly
In the sky, in dark night
Her soothing silky skin sparkles
And the moon melts down apiece
Dare you not look into her waxing eyes
Lest be blinded.
She is all mines; both front and back
well endowed.
She is all princes' dream and all princess' envy.
But, she knew most men
In the streets, and in the hoods too.
Her lush deprives wives of their husbands— and husbands of reason.
For her, many lads pine
And flatten their purse.








Author: Kombat Chris
---
---
COMMENTS
John Bayalimah | 5/6/2021 8:31:16 AM
When all attempts to get a better half fail, they sleep in the camps of preacher men
REPLY