Media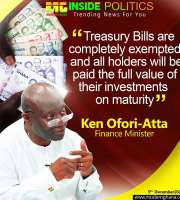 Relevant Links
Media Links
C.E.O Herh!!! i laf saa enter mall. i just met a guy today and asked him the meaning of C.E.O n can u guys imagine the answer he gave me...
C : Chairman
E: Eating
O: Orange
Chairman Eating Orange
hahahhhaaaaaa..do u think he is serious??????


Author: Prince Kenzy
---
---
COMMENTS
Face_One | 4/27/2019 1:56:08 PM
Worst joke i have ever read. st*p*d AF

REPLY
relly | 10/23/2019 10:19:25 PM
not funny

REPLY
Top Stories
6 hours ago

Ministerial approval: NDC MPs outsmart Asiedu Nketia who wanted them to take pho...
6 hours ago

US Vice President Kamala Harris arrives in Ghana today
7 hours ago

'I didn't say I'm the messiah, I don't have those spiritual connotations; but I'...
7 hours ago

'Arrest any youth caught eating in public' — Kano State's Hisbah Board tells rel...
7 hours ago

Minority fiasco: Will NDC ever deliver for Ghanaians — Franklin Cudjoe quizzes o...
7 hours ago

Koku Anyidoho defends NDC MPs who voted to approve ministerial nominees
8 hours ago

Kenya police chief bans new opposition protests
8 hours ago

Chad's president signs pardon for 380 rebels sentenced to life in prison
8 hours ago

Replace worn out cylinder hoses, rubber seals regularly — NPA urges public