Media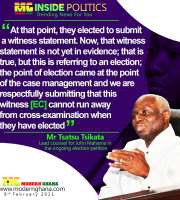 Relevant Links
Media Links
The 3 Pastors Three pastors agreed to meet and discuss on an issue concerning their churches, and the problem each of them had. And everything they discuss must be a secret, that will remain with just only the 3 of them.
1st Pastor: as for me my problem is i have been stealing my church offerings.
2nd Pastor: as for me my problem is i have a taste of any fresh new lady that comes to my church. i just don't spare them at all.
the third pastor started crying..."why are u crying" the two asked?
3rd Pastor: i have a bigger problem than u all...my problem is my mouth. I can't keep secrets and i will make sure people will hear whatever we discussed here.
What!!! the other two pastors decided to beg and compensate him..but the third pastor continued crying and said it wasn't his fault. just that my spirit loves gossiping. he said n walked away leaving the other two behind.



Author: Prince Kenzy
---
---
COMMENTS
Hahaha | 4/28/2019 10:29:58 PM
really??

REPLY
PATRICK | 5/9/2019 5:59:18 PM
really funny

REPLY
Dan | 11/3/2019 10:32:05 PM
hahaha...so funny 😆

REPLY
Was | 1/19/2020 3:37:35 PM
Interesting

REPLY
Nana | 2/8/2020 6:45:15 PM
Funny

REPLY
Stanley | 5/2/2020 12:32:43 AM
Hahahahaaaa nice one dear

REPLY
Riska | 5/9/2020 11:22:09 PM
haha

REPLY
Naa | 3/15/2021 11:22:13 PM
Comment.. This be two troubles one God

REPLY
Popkid | 3/25/2021 9:23:07 AM
haaahaaa

REPLY