Media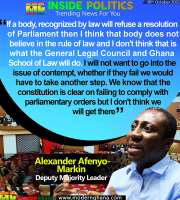 Relevant Links
Media Links
University Of Cape Coast Oh Ghana!!! we heard a very sad news this morning. almost 50 female students of the university of cape coast closed from lectures this afternoon. as they were standing by the roadside waiting for a bus, a white sprinter which was coming from Takoradi was spotted along the road coming with a very high speed..this car was coming in the direction of the students, people were shouting and crying....and with a full speed hwiiiiiiiiiiiimmmmmmm!!!! the bus is now reported to reach Accra safely... the passengers just got down...hmmmmmm!!!


Author: Prince, Accra
---
---
COMMENTS
Kweku | 12/18/2018 8:16:11 PM
Heer U Too Much

REPLY
NATHANIEL | 5/3/2019 4:08:39 PM
U TOO MUCH

REPLY
Top Stories
5 minutes ago

US VP arrives in Ghana on three-nation African tour
6 hours ago

Ministerial approval: NDC MPs outsmart Asiedu Nketia who wanted them to take pho...
6 hours ago

US Vice President Kamala Harris arrives in Ghana today
7 hours ago

'I didn't say I'm the messiah, I don't have those spiritual connotations; but I'...
7 hours ago

'Arrest any youth caught eating in public' — Kano State's Hisbah Board tells rel...
7 hours ago

Minority fiasco: Will NDC ever deliver for Ghanaians — Franklin Cudjoe quizzes o...
7 hours ago

Koku Anyidoho defends NDC MPs who voted to approve ministerial nominees
8 hours ago

Kenya police chief bans new opposition protests
8 hours ago

Chad's president signs pardon for 380 rebels sentenced to life in prison
8 hours ago

Replace worn out cylinder hoses, rubber seals regularly — NPA urges public