Media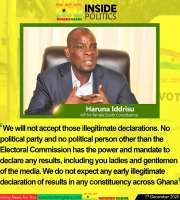 Relevant Links
Media Links
The Darker You Are They said the darker you were, you know, you were further away from the slave house.

I learned that! The light-skinned people, they say, there was some mixing going on. Man, my family was so dark,

we were two feet from freedom! We didn''t even know there was a house on the plantation.


Author: A.j. Jamal
---
---
selarcy | 1/30/2018 3:03:44 PM
too dope.selarcy from ahaiman

REPLY
Kay | 9/7/2018 2:16:30 PM
Nice piece

REPLY
Niaja 4life | 9/8/2018 10:45:21 AM
Kinda dumb

REPLY
Julius [ Kaleo] | 9/10/2018 9:40:11 PM
Not that exciting!

REPLY
Lilly | 2/28/2019 9:39:16 PM
Ain't funny.. Mtcheew

REPLY
ee | 10/23/2019 10:24:37 PM
mmttcchheewwwwwwwww

REPLY
Jessie | 4/21/2020 12:48:36 AM
I don't get it

REPLY
Stanley | 5/2/2020 12:28:50 AM
Nice one

REPLY
Gal | 4/18/2022 9:51:52 AM
I dnt get it

REPLY