Media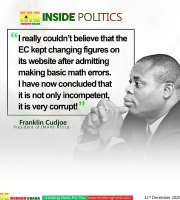 Relevant Links
Media Links
The Interview Two friends Kakuta and wilson after seeking admission for 3years were finally called for interview at Opoku Ware SHS.The friends getting fore the questions,prepared very well so this is wat happened when Wilson got in;
interviewer:who is the headmaster of this sch?
Wilson:formally Yaw Anokye but now Benzeau.
Interviewer:Wow!!how many classrooms are there in the sch?
Wilson;About 50 classrooms
Interviewer:Wow!! any idea about the population of the sch
Wilson:About 3000
Interviewer:Wow!! They say the boyz-D is the main source of disease out break
Wilson:That is wat they but not scientifically proven
Wilson whispered to kakuta "Charley the answers be the same.Not knowing the question have changed.Kakuta went in and this is wat happened.
Interviewer:Wat is your name?
Kakuta:Formally Yaw Anokye but now benzeau.
Interviewer:How many times do you urinate in a day?
Kakuta:About 50
Interviewer:how many times do you wet bed?
Kakuta:About 3000
Interviewer:Are you mad?
Kakuta:That is wat they say but not scientifically proven.


Author: Yasir Arafat (dope Kid)
---
---
COMMENTS
Awudu | 11/24/2016 11:51:45 AM
Hahahahahahahaha
REPLY
BOTSHA | 12/9/2016 6:10:36 PM
Hahahaha no be lie
REPLY
asher | 2/4/2017 6:19:03 PM
Mtcheeeew
REPLY
raguu | 8/9/2017 5:56:22 AM
Aaaaaaaaaaaaaaaaaahhhhhhh 3d3n npoooo

REPLY
Newton | 10/21/2017 11:46:50 AM
Lol

REPLY
nero | 11/15/2018 3:28:54 PM
hmmmmmmmmmmmmmmmmmmmmmmmmmmmmmmmmmmmmmmmmm


REPLY
Sara | 10/23/2019 10:28:35 PM
Lol

REPLY
Tithy | 12/5/2019 1:57:37 PM
U for spoil everywhere.GO THERE!

REPLY
Quality | 3/23/2020 2:51:43 PM
Very funny

REPLY
Jessy | 6/18/2020 11:55:44 PM
This be total madness

REPLY