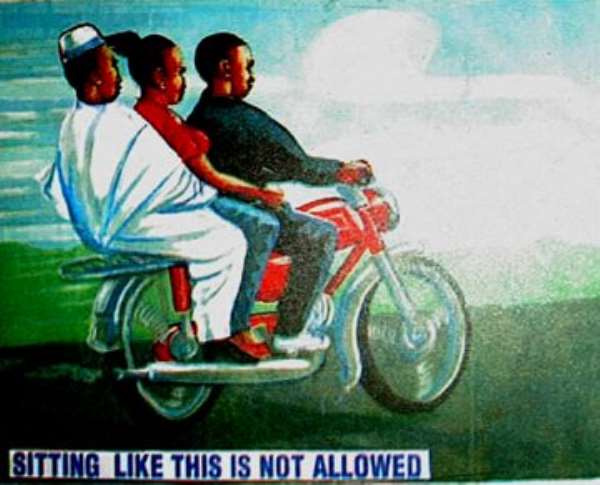 I know what's going through your mind. Yes, whether it is really possible to have sex on motorbike. Well, anything is possible as long as... we have perverted men in this country. Perhaps I better explain, but before I do, let me ask you, if it is possible, for a male and female passengers, who are riding on a commercial bike, be able to have sex on motion? You may probably not agreed that is possible, but I tell you that there men who stupidly think it's possible.
Let me quickly tell you my discovery. It was a hectic day as usual. After beating the dreadful traffic along the Lagos/ Abeokuta express road, I got to Egbeda bus stop. I was in hurry. The time was almost 10pm. I was due to take an injection that day. I was booked for a week and the doctor had sterly warned me not to miss any day, or I may have to start all over again. I didn't want to miss any. I couldn't bear to have my buttocks assaulted again by those painful needles. When I arrived Egbeda, there was a hell of traffic jam to Ikotun. I heaved a frustrated sign. I knew I just have to take motorbike. But motorbike at Egbeda is very expensive. I have spent too much on my medical test and hospital bills. I needed to manage. I approached the first Okada guy. Before I could finished asking him where how much to council, a startling handsome guy, in a clean suit and shining black shoes appeared by my side. He was a sight for sore eyes. He was good looking and he knew it by the way he smiled. He had the right height and well space shoulders. Shoulders actually seems to be begging a lady to " come on baby, lean on me." whoever sewed his suit and trouser, could very well out calvin klein or any designer to shame. It seemed he was poured into it. I noticed all these but honestly, I wasn't impressed. It takes more than I handsome face to get me wet or interested. I gave him a clinical observation. He asked the Okada man if he would carry two passengers. I'm not naturally, a fool, I knew with two passengers, the money would be halved between us. And it was exactly as I thought. Initially, the bike guy had asked me to pay N300, but with the arrival of the handsome dude, I split it to 50-50. He was heading to Isheri, and I was going farther. I sat behind the okada man, while Mr. Handsome sat behind me.
We had not gone far, when I felt the unmistakely throb of his manhood against my aging buttocks! Jeez! Some men are insane! How on earth can a guy get an erection when he doesn't even know me? I tried to pretend I didn't know what he was doing but I was danm uncomfortbble. He kept "shooking" me, so to say! Everytime Mr. Okada man climbed over a bump or entered pot hole, it would an opportunity for him to shook me. I finally lost my cool when he actually had the effrontery to attempt to touch my boobs. I snapped my neck and turned to look into his eyes. It was dark, I couldn't see his face. But I asked him any in snarling voice, I hoped. " what the hell are to trying to do?"
and the idiot replied in quavery voice, " I just want to touch your hands." see me, see trouble O! Shei me and him na Romeo and Juliet? Which one be hold my hand?
Before I could give him a piece of my mind, he quickly told the Okada man that he was alighting. When he climbed down, he looked at me and apologised. I swear, that man was simply mad! But one thing is for sure, no more sharing of Okada seat with any male. If I must because I am still poor struggling woman and money is scarce, then I must sit behind the guy and not the other way round. What was he thinking anyway? To screw me on a motorbike, with the rider speeding along the highway? Men!
The next day, I was going for my last injection and arrived at council bus stop. At council, there rule is two per motorbike, if you don't like it, you might jolly well go and take a swim in the lagoon! I made sure the male passenger boarded before me. When he got down, the okada regalled me with different incidencies of men who used to "shook" women passengers with their electric pole on motorbikes. He said he recollected the day, a lady ordered to stop, she climbed down from the bike and said she was no longer going except the male passenger gets down. She insulted him and finally stoned him. She didn't waste time in explaining to Lagos lookers who had gathered that the man had a mischivious snake head buried in his trouser. He told me so many incidencies that made me blush. Haba! Can some men be so shameless?
I know that some men have probably of controlling their irate manhood. Those are the sort of men, who had pour forth their holy water immediately their manhood touches the bakassi of a lady. Men who can not control their manhood. These are also men that can rape at any given time. They are controlled by their homones.
No, tell me, what really can a guy do on a motorbike, with a lady, who is a total stranger? Perhaps I'm missing something here. Come to think of it, perhaps there are girls who had simply given in to such rubbish at the feel of the stiffened rock rubbing their buttocks. Perhaps if she doesn't complain, the next thing would be conversation and exchange of addresses. And before you know it, they had both started browing each other's web sites. It's possible! If we have loose men, I'm sure we have loose women too. It takes a mad man, to tango with a mad lady. I have seen cases where men release all over ladies in a moving molue. I have seen a case where a lady begged a guy to lap her because it was rush hour and buses were not particularly many. Before she got to her bus stop, our brother had poured on her buttocks. When she got up, she was so wet, you had think she had pee in panties. She of course made sure everyone knew.
If you don't want strange men to pawn and shook your darling with their yeye and stupid manhood, best buy her a car. But if you can't meet up with a car, then give her enough money to pay a fare that would cover for two passengers. As for me, I know I would not be able to buy a car anyway. Definitely not on a journalist salary that I'm receiving. Short of robbing a bank, the lest I can do, is to beg any male passenger, to please take sit at the front, while I manned the back.
The life of a lady is not an easy one. Sometimes, the stupid pervert would be shook a babe with his kini and the okada rider, for reasons we all know, would be stretching his back, to tap current from her boobs. Tell me, sawiched between such two devils, short of jumping off, what would a babe do? When there were talks of banning okada riders from carrying two passengers, some peole pitied for them, thinking about the money they would lose. Now, I seriously think it is important to revisit that idea, before some crazy men start raping women on motorbikes under the glare of people. I have come to realise one thing, some guys' one eyed snakes have no respect for anybody, not even their owners! The best thing is to start from home, teaching them etiquettee on how to behave in public and with a total female stranger. Men need to also start to teach their screw drivers to be able to identify and differentiate their babes, from a total female stranger. The menace of misbehaving manhood, begins from a complete lack of home training. Good day all!