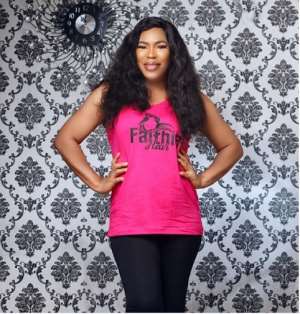 Popular Nollywood actress Faithia Williams says there is a need for creative people to also go into business in order to sustain their lifestyle.
Asides interpreting roles on-screen, the beautiful Nollywood actress Faithia Williams, also ventures into selling beauty products, hair and also owning a restaurant.
Fathia Williams who has been able to maintain her relevance in the industry, over the years, launched her hairline in December 2019, around the same period she launched a multi-million naira restaurant, Unusual Kitchen in Abeokuta.
The Nollywood actress, who joggles between her acting career and business took to her social media page to promote her new hairline by posting the logo of the brand, she captioned " Hey family! Its been a wonderful ride with each and every one of you and I really want you all to know that I appreciate the love and support. On this note, I'd like to unveil my newest baby FAITHIA HAIR! For your lush, luxurious, affordable classy, and long-lasting hair, call the numbers on the poster above, we are here help you make a statement with your hair. You don't want to be buying from anywhere else.
The actress, who recorded massive sales during her "Ogbona Felifeli" sales is back with another promo tagged "Awoof Yakata which she launched on the 26th of July 2020.
She shared pictures of herself and her models rocking some hair from her brand, Fathia hair with the caption; " Are you ready, our Awoof Yakata has started running from today 26th to 31st of July 2020, what are you waiting for, start placing your order now. We are here to give you the best hair at a very affordable price. With less than 18k you can get a banging and beautiful hair from faithia hair.
"I have been doing other business, I also sell other beauty product before the launching of faithia hair, I started the business as a result of wanting to look good, another secret is the love for herbal product which is all-natural; I have been using them over the years, she told broadway tv.
---BBB Media