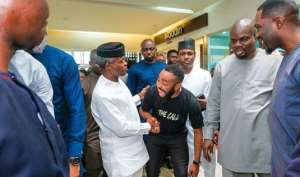 Vice President of Nigeria, Prof. Yemi Osinbajo, has visited the Silverbird Cinemas at Ikeja to watch a movie, The Call, by comic actor, Woli Arole.
The actor shared a series of pictures on Instagram on Sunday to appreciate Prof. Osinbajo's presence.
"This could have only be GOD. His Excellence the Vice President of Nigeria Prof Yemi Oshibajo gave us a SURPRISE VISIT at @silverbirdcinemas ikeja.
"He heard of the exploits of #TheCallMovie and decided to SURPISE US. I am humbled sir. You are such a gentleman filled with extreme wisdom. He said he been CALLED too. @profosinbajo," Woli Arole wrote.