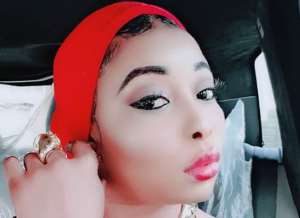 Nollywood actress, Lizzy Anjorin, will never keep silent on this one as the actress has come out to mock those that have called actress, Funke Akindele all sorts of name.
It would be recalled that the actress welcomed a set of twins few days back and this has made many thank God on her behalf knowing how tough it has been for the family.
"For those of you that hate celebs for no reason, you seat in one corner of your wretched slums and talk trash...you mama should go and marry gate man. Your mother has used her womb ..your mother can never have baby, SHAME ON YOU ALL...even some scums that claimed to be a friend , family or comforters, will just turn to overnight enemy cos of useless lies and deceit.. .. SHAME on you all.
"God has shown you all to stop mocking his chosen ones. Celebs are born to save homes, we put smiles on your faces, we restore some broken homes but just little time God want to give a test to this celeb, you will be using their deepest pains to accused them and bring them to nothing and make them shared terrible tears behind the close door. your friend has not gotten husband , your friend has not gotten child, your friend has not gotten this and that ...are you GOD ?....I was born with menopause yet I was powerful and successful than every children they were giving birth b4 me ..those that mock my mother for not having child/ren are currently searching for me like menstruation to feed their family ...if you never die do not mock your fellow on any shit, everything in life is not ours, so be humble with anything you got ..God of the chosen do right thing at the right time for his chosen. on behalf of this beautiful chosen I say thank you LORD.
"Mr Bello I will not thank God without thanking you for the genuine love and understanding. Thank you for making this journey end in success. You are just one in the whole world, if I see your duplicate i will tell you ..After God na you my brother ...This bundle of joy will stay and be a blessing to their generation and make us proud insha Allah. Make we leave story and thank God on their behalf. Aso ebi for our beautiful twins is loading. 1millionaira per 5yrds."