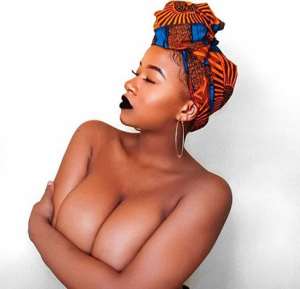 Model and Founder the boob movement, Abby Chioma has taken to her instagram handle to let men know that the only people who should complain about the breast are babies, and she has never seen a baby complaining about the size.
She went on to show the size of her breast, covering just the nipples. She said, "Some people think having large breasts makes a woman stupid. Actually, it's quite the opposite: a woman having large breasts makes men stupid."
She did not stop there but went on to say, "If you're asking if my breasts are natural, yes, this is how I've looked since I was 13 years old. And I'm okay with it."
She ended by telling every woman to love their breast, no matter how big they are.