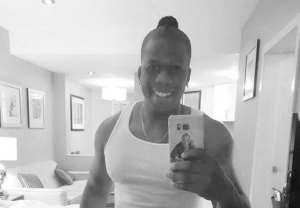 Singer, and lover of actress, Juliet Ibrahim, Iceberg Slim, recently left his fans talking after he shared a photo of himself in a towel.
It is no big deal if one ties the towel around the house but it will become a big deal if the fellow does not control things he needs to protect while having the towel around.
The singer tried to break the internet after sharing a picture where his large manhood was dangling behind the towel like a hunting gun.
Somehow, this could be what most ladies like about him which is why they flock around him and dude is always careful not to get into trouble.