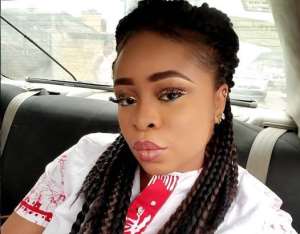 Nollywood actress cum beauty therapist, Ferrari Bongkem, has been able to pitch her tent in the Nigerian movie industry and part of her role in a movie is being used in various skits which has also helped in selling her personality to lots of movie producers who have been knocking on her doors.
When Nollywoodgists caught up with the actress who has been very busy on movie location took her time out to share some things both about herself and business.
Read excepts below;
How do you feel seeing the way people now use part of your role in a movie to make skits?
I feel blessed that people find my roles good enough to use for comedy skits. It's a huge blessing. It means I am doing something right. It encourages me to become better with my craft.
You have suddenly become a house hold name in the movie industry, did you see this fast growth coming so soon?
It is not sudden. I have been in the industry for more than three years and I have paid my dues. I don't believe in sudden success. I deserve some accolades. Every diligent worker deserves to be appreciated.
Would you say your video in some skits also sold you well to producers?
Well, may be. I see it as a marketing tool. The more people watch those skits; more people will be drawn to the Ferrari brand. So it is a publicity tool.
You were one time working in a bank as an internal auditor, how come you are able to become a skin therapist and doing well?
I believe in prioritization. Everyone has 24 hours .I have learnt to prioritize when it comes to my acting career and my business. It hasn't been easy but I have learnt to balance. I also have a supportive team that helps me with some of my task.
Although your dad is late, but how was the reception like when you broke the news about your interest in the entertainment industry?
My father died before I got into the movie industry. He would have supported me. I miss him every day. My mom was my number 1 fan before she died.
How have you been able to manage your skin business with acting?
I have been in the skin care business before my acting career began. They don't disturb each other. They even complement each other. Everyone wants a good looking skin.
You're partly Cameroonian, why did you choose Nigeria over the later considering how daisy the economy is?
I was raised and bread in Nigeria. I had my education here too. I visit Cameroon from time to time too. Nigeria chose me though I was born in Cameroon.
When coming into the movie industry, did you get the odd welcome from some producers who ask for your body in exchange for roles?
No, I didn't experience any of those things. I entered the industry through Kunle Afod, who was introduced to me by a marketer. I entered the industry because of the passion for the profession. I am not desperate for fame. I am a no- nonsense person, I don't even give chance for a situation like that. I don't lobby for jobs. I also make my own movies.
Lots of actresses today now have a change of skin from the usual dark skin they are known for, does it mean light skin actresses get more roles than dark skin?
I think it is wrong to conclude that light skinned actresses get more roles. At the end of the day, If you are light skinned and not talented, you will not get the roles. Talent will make a way for you, not the colour of your skin.
Between acting and skin business, which has been more profitable?
No one in particular makes more money than the other. Everything depends on the amount of commitment, passion and dedication you put into it. There are skin therapists who make more money than some actresses and there are some actresses who make more money than skin therapists. What counts is how far you are willing to go for what you are passionate about.
Is there no health implications on those bleaching their skin and claiming it's toning?
Definitely, there are implications, if the methods of the bleaching are not natural methods.
You are still single, are you scared of marriage or you are yet to meet your kind of man?
I am not scared of marriage, I appreciate marriage. Marriage is forever. I don't believe in divorce, so when the man God chooses for me finds me, I will marry him.