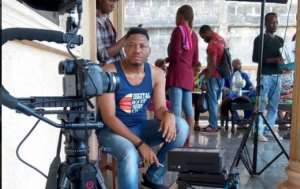 Nollywood actor, Ernest Obi, has not been making headlines for a while now and that is because the actor is now focussed on movie production than acting.
He is not stingy with is works and so ensures that he engages good hands to deliver the various roles he wants.
His works are enormous yet he is not resting as he continues to dish out true African stories the Nigerian way not just that, he likes going the extra mile to see that he works with the best makeup artists in town.
Ernest's latest movie, 'Delta Blood,' might not be accepted by many but the actor sure has his plans as he has come out to clear the air that he does not produce movies like that of Hollywood.
Not many will like to disclose how much is being spent on a movie but the actor was quick to disclose that telling the Nigerian story the way it should be, his movie 'Delta Blood,' cost him about N10 Million.
In his words, "'DELTA BLOOD' As an African filmmaker, I tell my stories from the d African perspective. Not American. As a Nigerian filmmaker, I interpret as close to realism as possible for my audience needs to willingly suspend every element of disbelief.
"I live in Nigeria, Africa, Not Wakanda. This is delta blood not Black Panther. My budget is 10million naira not 300million dollars. I do not have an extra budget for promotion. So I use my space. My space. So if you don't like what you see because it don't look American enough. Please kindly leave my space. Its delta blood challenge an Ernest Obi Mindset."