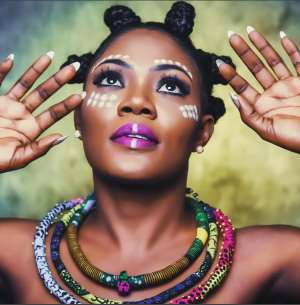 Bayray McKwizu
In a field where tough competition is the order of the day, talent is never enough. The Nigerian movie industry otherwise known as Nollywood is filled with many talented actors who have, in several ways, proven that talent without passion, drive or goal amounts to nothing. One of these actors is the ever versatile Bayray McKwizu.
You all might remember Bayray from Amstel Malta Box Office, a Nigerian reality TV show which shot the actress to limelight after she emerged as the winner in 2009 and since then, Bayray has shown us that she isn't just a reality TV show winner but a bunch of talent out to put her mark and prints in our minds.
Her winning the show got her a starting role in Cindy's Note directed by Izu Ojukwu, where she starred alongside notable stars like Nonso Diobi and Clem Ohameze Since then, Mcwizu has never looked back.
She has since featured in amazing movies like; Tales of Eve, Kiss andTell (2011), Calabash, Lies Men Tell, My Rich Boyfriend (2014), A Lonely Night, Cruel Intentions and the award winning movie The Visit(2015). Bayray has no doubt, won the hearts of many viewers who have seen what she can do.
Bayray's display of versatility and unconventional role interpretations has put her in the good books of talented producers and directors, who believe in her craft and what she has got to offer in the entertainment industry.
Sometime ago, Bayray was off our screens for 2 years but not only was she missed, she had to fight her way back to the top after her hiatus. According to the talented actress, it wasn't easy as her absence got to her. However, she went from being emotionally down, to taking over her own world and being the best at what she does.
There is no further proof to the fact that Bayray is getting the right attention and climbing the ladder than her presence in 'Hire a Man', one of the blockbuster movies in 2017. She further earned respect with 'Trace' and 'Tiwa's Baggage', two well-loved movies.
Time they say waits for no man but there seems to be an exception for this actress as with time and patience, Bayray McNwizu has found her foot.