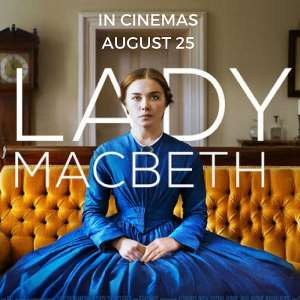 Review: Romantic thriller 'Lady Macbeth" is brilliant
Review: Lady Macbeth is great sexy thriller with an excellent lead performance
Review: Lady Macbeth is one of the year's best films
This is not Shakespeare but packs all the drama and thrills you'll get from a Shakespeare play. This is a very modern film for a sophisticated audience and easily one of the best films of the year.
Set in Victorian England, the movie tells the story of Katherine (Florence Pugh) a woman stifled by her loveless marriage to a bitter man twice her age, and his cold, unforgiving family. The husband doesn't even touch Katherine on their wedding night before departing on a long business trip. She is left alone with her father-in-law, who's impatient for a male heir and unlikely to sympathize with the idea that it's his son's fault she's not pregnant.
The only other company on Alexander's estate are the servants, and Katherine's time is occupied by two of them. One, Anna (Naomi Ackie), is her maid, observing her every move and, she suspects, reporting them to her father in-law. The other is Sebastian (Cosmo Jarvis), a handsome groomsman with whom Katherine embarks on a passionate love affair.
I don't want to say anymore as the events in the film are shocking and will leave you on the edge of your seat (literally). Anyone that has seen Game of Thrones might ask "Is she as bad as Cersei"? She's much worse.
Directed by William Oldroyd and written by Alice Birch. Lady Macbeth is the very first feature film of director William Oldroyd and it's a fascinating debut. Oldroyd never allows us to look away from the screen, focusing, in long, intense shots, on the faces of his characters and shocking bursts of violence or eroticism.
The film has been universally acclaimed since it debuted at the Toronto International Film Festival and there is buzz of a Best Actress Oscar nomination for Florence Pugh. I can see why.
Lady Macbeth will be released in cinemas August 25.