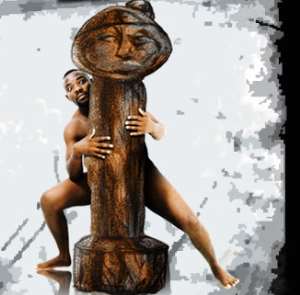 Okey Bakasi
The status of entertainment guru Okey McAnthony Onyebule a.k.a. Okey Bakassi was elevated to that of the special adviser to Imo State Government on entertainment recently. Speaking on the honour bestowed on him by the state governor Ikedi Ohakim, Okey said, "I will be resuming officially on Monday (last week). I'm over qualified for the position and I appreciate His Excellency's kind gesture in finding me worthy of the position. I will try my best to make sure that the entertainment industry flourishes in my state."
Explaining his agenda for his new position he stated: "Right from time I have always had plans on how to elevate the entertainment industry not just in my state but in the country as a whole. You know that the entertainment sector even in developed countries bring in more money than oil so if properly harnessed, with the population of 150 million in Nigeria, we can find at least 10 million talents who can bring in so much money in the country."
Still on his agenda he continued, "I have at least a five point agenda, which includes identifying and cataloguing the entertainment sector in my state, bringing the stakeholders together to rub minds on the entertainment potentials we have and see how we can leverage as the entertainment capital of Nigeria. Once we have done that, restructure the place and sustain it so as to attract investors. By so doing create job opportunity for thousands of youths."
Speaking on the financial aspect of the position he said his take home was not as big as what he gets from a show.
"But then, it's not all about the money." He has plans to combine his new job with his show business.
"I'm not made the special adviser on education or something else. This is entertainment and it is within my sector so this will even give me an opportunity to actualise some of the things I want to achieve."