Mac Tontoh - Godfather Of Music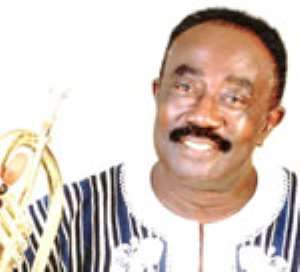 When Osibisa the giants of the crisis cross rhythm came to Ghana for the first time in 1972 after its inception in London, little did local critics of the music industry think, Osibisa was going to be an institution with a timeless status quo.


Today some of the early pioneers like Paul Golley, Robert Bailey, Spartacus R. Loughty Lasisi Amao, who died through a gunshot in a flat in New York, Freddie Coker, who succeeded, Spartacus and played here and left the group after Osibisa conquest of West Africa in its never to be forgotten shows at their venues, Accra, Kumasi and Takoradi, now agree in their racking that Osibisa has come to stay as an institution.

Mac Tontoh, a brother of the leader Teddy Osei, who plays the sax and doubles as an achitect by profession, in an interview told this correspondent that the home coming of Osibisa for the first time was an impression many critics noted that they have dominated afro rock world musical scene and true to its performance with their musical explosion of crisis cross rhythm the awareness of fans and music lovers had been aroused of the abundance of their talent which the three Ghanaian musketeers of the group, Teddy Osei, Mac Tontoh and Sol Amarfio possessed.

As part of the publicity team that handled the local marketing of the group, a Ghanaian business executive who owed a popular boutique known as Two Guys called Agyekum in the Cowlane area in market district of central Accra, directly got interested in the personal needs of the three and this helped to fuel the enthusiasm with which the Osibisa group were ever ready to deliver the goods.
It was really interesting to feel the dynamism that they display in their message or musical policy.
The group name, Mac Tontoh said emanated from the Ghanaian word Osibisaba meaning drumming and dancing to African Indigenous music.
At that time, Osibisa the multi racial group it use to be, later became almost an African affair with Jean manlique from the Cameroun and few exceptions like Robert Bailey .the organist and Wendell Richardson of Antiqua from West Indies.
Source: The Spectator