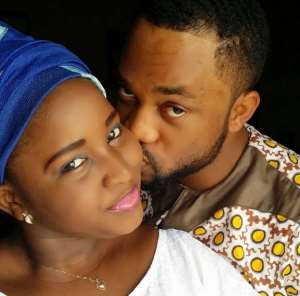 There is nothing new again in the entertainment world.
What can only amaze people are those that are involved.
Top Yoruba actor, Damola Olatunji, we learnt has abandoned his wife, Damilola for fast rising actress, Bukola Awoyemi popularly known as " Arugba".
According to the source, Damola and the said mistress are having a rollicking time outside the confines of Damola's matrimonial home.
The duo were said to have met at a movie location and the chemistry clicked right away. The romance started after Damola who has always been a big fan of the actress finally got the opportunity of coming in contact with her and both kicked it off from there.
We learnt that since the Romeo and Juliet romance started, Damola's wife who is based in UK has been facing hell in their marriage.
Findings revealed that the highly revered actor's wife have not set her eyes on her hubby for the past two months now.
We were even told Damola presently hibernates with Bukola a.k.a Arugba in her Magodo home.
According to those in the know, the bond between Damola and his new found love, Bukola is so strong that they can hardly stay apart from each other.
What may have attracted Damola to the actress is obviously her dazzling looks and physique, though beyond all that, it was revealed that it's her charm that got him love-struck to the extent that he decided to walk out of his a year old marriage.
Bukola, today is one of the fast-rising actresses who hardly goes to parties, and she has never been linked with any man in the past, however, we learnt that she is a woman of zero morality despite her public posturing..
We tried to contact Damola and Bukola as at press time to hear their own side of the story but their mobile lines was switched off.