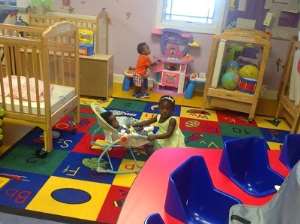 One thing that every parent wants their children to have is good education and they try their possible best to make it happen.
Nollywood actress Mercy Johnson-Okojie and her daughter Purity has been in Baltimore, US, for over three months, where she is expected to deliver her second child. The actress husband Odinaose Okojie has joined his family in US to celebrate their 3years wedding anniversary.
The parents dim it feet for their first daughter Purity who is 2years old, to go to school pending her return to Nigeria. The actress has therefore registered her daughter in a Creche/Play School in Baltimore.
The actress took a picture of her daughter in school and is so excited at her daughter's first day in school. "Odi says let go because at some point you will have to, I can't stop peeping from the window. My baby's first day at school," she stated