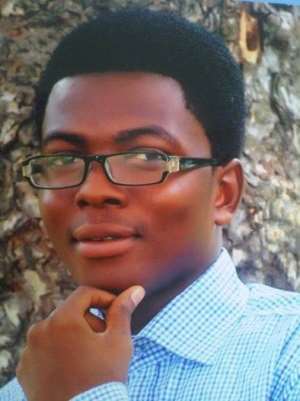 Ali Toyin Abdul is an award-winning writer and vice president of the union of campus journalists, university of Ilorin. This undergraduate of Law shares his thought with Odeyemi Afis Olawale on National issues and campus journalism.
Question: what are the challenges campus journalists faces on Nigerian campus?

Response:The fact is that no engagement on campus is devoid of challenges. Much especially those that is not directly linked to academics. Sometime as a campus journalist, you would have to pursue a course that could cost you your admission. Campus journalism has not been able to receive the necessary recognition and supports in the nation's ivory towers. The environment on ground doesn't create room for successful practice. We could all remember the case of a campus journalist that was expelled for reporting a particular episode on campus. This development has really cultivated fears in the mind of student writers towards event reportage. Hence, more writer
Question: under-employment among Nigerian graduates are becoming unavoidably rampant, does the burden wholly lie on the government?

Response: I wonder why Nigerians relish building castles in the air. Why would you be expecting the government to provide employment for every graduate in the country? People languish in abject poverty, yet they keep nursing the idea that Nigeria would one day be a better place. Yes, it is the constitutional duty of the government to cater for our welfare, but why can't we explore our potential and maximized it into productivity.
Nigerians could only surmount economic challenges, if our initiatives are properly used. My observation is that, it is only entrepreneurs that are making it in Nigeria. Great enterpreneurs don't think on how to earn from the government, but what the government can earn from them. You should note that young enterpreneurs like Japheth Omojuwa and Linda ikeji earn a living through their innovative. This is a clarion call on Nigerian Graduates to explore their initiatives by dabbling into agriculture, catering, event management and some other means of entrepreneurship. The government should also encourage the youths through small scaled capital to further boost their career.
Question: Nigerian tertiary institutions are more of theoretical work scope, is this attributable to dearth of technical know-how?

Response: judging from what we have on ground, the Nigerian educational system does not really provide for a pragmatism-based education. You would imagine the kind of graduates Nigeria tertiary institutions yearly turn out. For instance, if a university is granted an accreditation to run computer science programme without the required resources, what types of graduates would it produce. Most laboratories in science departments in Nigerian institutions are far below standard compare to their counterparts in developed countries.
......As far as quality education is concerned, students must be able to experience what they are being taught in class. Nigerians always complain of the unemployment rates in the country, but we have to ask ourselves if the kinds of graduates we produce are marketable. The labour market itself needs resource-oriented persons who would be up to the task. What would be termed a quality education is when a mechanical engineering graduate can repair a faulty auto-mobile.
Question: will the ongoing national conference put an end to all challenges threatening Nigerian unity?

Response: Hopefully, the sovereign national conference should be able to mend the broken bridge of our nation. We should bear in mind that the unity and welfare of Nigerians are non-negotiable, and nobody would do that except Nigerians themselves. Nigeria is blessed with avalanche of resources, but our failure to properly manage them snowballed into the various crises rocking the nation.
The conference is a national round table where the minority would have their own say; the typical market women would have their interest embraced; the professional bodies, religious bodies, the youths; and some other denomination of the society would sit down and iron out the way to a brighter Nigeria. Though, critics posit that it is an avenue to squander our national wealth, but sight should not be lost at the positive effects it would bear on the country.
Question:journalism is referred as the fourth estate of the realm, is this justification far from reality in Nigeria?

Response: All things being equal, journalism is like the sun that illuminates the whole world, but the environment we found ourselves does not provide for transparency. What we have in Nigeria is a complete mockery of the institution. Media bodies and practitioners have been turned into objects of ridicule in the society. It is only in Nigeria you would see people harassing journalists, terrifying media organizations, or even go to the extent of negotiating with journalists for selfish political interests. Ordinarily, the media should be the political watch dog of government activities, and in turn expose it for public consumption. We should know that the role of media cannot be undermine in the area of electioneering and crises resolution, thus, making them an agent of nation building.
Question: is the national youths service scheme living up to the expectation of Nigerian fresh Graduates?

Response: The ultimate purpose of the scheme is to promote the sense of national belonging. But the crises erupting in some parts of the country, is really affecting the sustainability of the scheme. Early last year, the government had to order the relocation of youth camps from some states due to security reasons. Many deaths, including those of youth corpers, have been lost to insurgency in the north. The situation got escalated that parents had to call for the abolition of the scheme. Aside this, the government has not been able to address the issue of unemployment. The growing list of unemployed graduates in Nigeria, is posing threat on the future of Nigeria. Due to unemployment, the youths have been turned puppets in the hands of highest political bidders. Everybody clamours for youth entrepreneurship but the government is not ready to provide the startup capital.
Question: as a renowned writer on campus, how do you handle your academic challenges?

Response: it is all about time management and knowing what you want. It is your ability to identify what you want that would create ways for you. I do tell people that the university is not only for degree acquisition but also for creating life-time impacts. I am the type that relishes advocacy and writing a lot, and this helps me a lot in my academics. The work scope of the legal profession itself is all about writing. A sound lawyer should be able to draft good legal documents without external assistance. Though, am surrounded with many commitment, but I do find time in the weekend to study. In short, studying law is like an added advantage for my potential.
Question: you recently bagged an award as the writer of the year, how do you feel?

Response: I would only attribute this to the almighty God for blessing with the rare gift of life. I feel elated that I was one of those people whose ingenuity was appreciated by people. This would serve as an encouragement for my writing career.
Question: Your advice to the upcoming writers?

Response: Like the proverbial adage: anything that worth doing, worth doing best. As far as you derive happiness in what you engage in, then keep putting your best as no one knows tomorrow. The race to your destiny might end in your present fulfillment. Be a product of your own thought, and learn to say no to those things that are capable of truncating your future. Winners are always those who think they can.