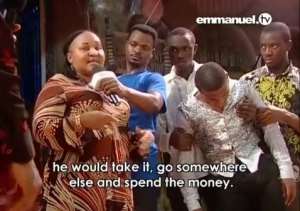 Barely one year after she was delivered by Pastor TB Joshua, Nollywood actress Camilla Mberekpe brought forth her son to the synagogue church in order to be delivered from the evil spirits controlling him.
Samuel, Camilla's son who was one of the 2012 Nigeria's Got Talent dance finalists confessed he was the 'Prince of Persia' and also possessed with the spirit of searching the internet for information about illuminati and addictive computer games. He also claimed to be responsible for his sister's death.
Samuel was taken to the Synagogue Church by his Mum, after she received a prophecy about him.
See pictures below.