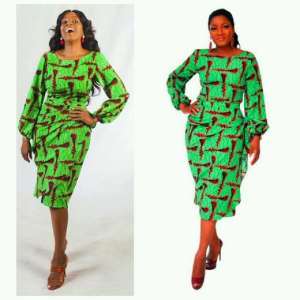 'Iro and buba' pronounced as (ee-roe and boo-bah), a West African wrap-like skirt also called wrapper with buba as the blouse/top is fashion style which is traditionally sewn using Ankara or Embroidered Lace fabric.
In recent times, the fashion piece is been made more modern when sewn with silk or chiffon fabric, with a vogue style to tying the 'iro' called the 'Tulip Style Wrap'. Amongst Nigerians the style is been coined 'Oleku' or 'Oleku Twist'.
The attire can be accessorized with lovely chic accessories that make it standout in all types of skin complexions and paired with any kind of spectacular heels and hairstyle.
Check out these photos of Nigerian 'Omosexy' and Zimbabwean Two-Time former 'UK Big Brother' contestant Makosi Musambasi, who came third in the UK Big Brother in 2006.
Who wore it better?