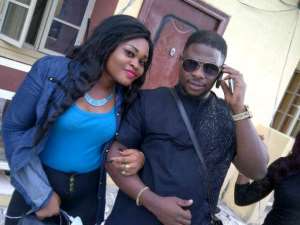 Apparently, the information gathered reveals that ace comedian cum actor, Anyinofu Kelechi Ashley otherwise known as MC Ash is currently bereaved.
This comedian who is mourning his ex-girlfriend by name Chinwe, didn't give memory a space even when their relationship never lasted till her death, recently paid glowing tributes few days after the pronouncement of her exit.
Died of cancer of the blood, Chinwe hailed from Abia state and was a student of Imo State University before her death. Reflecting on the moments they spent together, MC Ash wrote on his facebook page:
"I am still struggling to believe how true it is that my ex-lover and best friend is no more. Two days ago, I can recall how I missed her call, but later returned it. When she picked, I heard her voice talking slowly even though am aware she's seriously down with her health challenge. I encouraged her to pray and that I have been praying for her, even as I assured her of God's love and that she would be fine soon. She thanked me and all she said was: "Ashley, I have nothing against you even though we went our ways; but promise me you would never forget me" (at this point, tears dropped down).
"When I asked her where she was at the moment so I could come with a Pastor to see her, she dropped the call and all my efforts to call her back proved abortive. I never knew she has giving up to ghost. Its shocking to read posts of her death on social media days after... Its not been easy recovering from the shock of the news of your death, probably because we meant more than the situation we faced together while you lived on earth. Struggling to hear when the news would be debunked as being false had in past days been rendered fruitless. Its seems like waiting for a ship in an airport.
"More like every other people or best of friends in a relationships, we met on May in a wedding ceremony; I admired her while I anchored the wedding as the MC and compere and afterwards we met, exchanged contacts and then agreed to date. We equally agreed to have a more promising and rewarding relationship, hoping to spend our lives together. We spent many wonderful years together and had made a great life for ourselves. Even though most of the times we quarrel as friends, yet we remained and believed in ourselves. "She had great presence and her beauty was so much admired, not least by me.
"She had a good sense of fashion and so fun to be with; she was admired and loved by all. I call her "my jewel of inestimable value" and making sure no one else took her from me. We fasted and prayed continuously together for better days ahead, till the point when the devil struck, bad friends came between us and things fell apart to an extent that the centre could no longer hold, and then we broke up. I have been touched by glowing tributes that people have paid to her, and also the personal messages of support that I have received. I will never forget her like I promised! It is true that my Ex-lover, Chinwe Queen "My Boo" as I used to call her is dead, but lives on. "I WILL NEVER FORGET YOU"
Click the link below to go to...
Alleged Husband Snatching Saga: Foluke Daramola Denies Breaking Lagos Socialite, Kayode Salako's Marriage**May Marry Kayode Soon
D'Banj Dumps Genevieve For IBB's In-Law's Daughter? In Rumoured Romance With IBB's Son's First Wife's Sister
Omotola's Hubby is the bedrock of whatever she is today ---Princess Chineke
Win Lots Of Gifts From Nollywoodgists.com On Joli-Joli Avenue On Eko 89.7FM
Sexy Upcoming Actress Dies Mysteriously
Days After Cynthia Osokogu's Alleged Death By Facebook Friends, Another Victim Shares Near-Death Experience