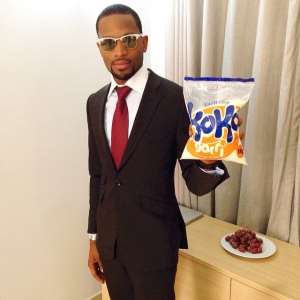 In the past two years of 'silence', the kokomaster has in fact released songs after songs. The problem is, all have been uniformly dreadful. D'banj may still be raking in millions of naira, but the quality of his music is giving fans and pundits cause for concern.
In February 2011, the remix of music superstar D'banj's hit, Mr. Endowed burst onto the collective consciousness of Nigerians. In the accompanying video was his longtime collaborator, partner and friend, Don Jazzy, gently nodding and swaying, true to his style. Also present was ageless rap veteran and lackadaisical charmer, Snoop Dogg – who was christened OluwaSnoop – and who professed love for "my nephew D'banj from Nigeria". Eja Nla (Yoruba for 'big fish'), as the Nigerian would come to be known later, had landed himself a really big fish.

Everyone gushed about the alluring video vixen, the wad of dollar bills used as rolls of toilet paper and how good the trio looked together. It would go on to be the definitive moment for D'banj's international career which blossomed after the release of Oliver Twist, the single that would go on to become a UK Top Ten hit the next summer.

In June 2011, after months of speculations and rumours, rapper and agent provocateur Kanye West signed both Don Jazzy & D'banj to G.O.O.D Music. The latter featured in the label's compilation EP, Cruel Summer, making a cameo appearance even in the video for Mercy, alongside fellow label mates Pusha T, Big Sean and of course West. Furthermore, fans were treated to a surprise appearance from Yeezy at the Koko concert in London. With the unprecedented success of the Oliver Twist single and the announcement of international deals, first with Mercury Island Records and then Sony Music, it seemed like D'banj had finally struck gold.

The kokomaster's success had an expiry date, it seems. The magic that truly captivated everyone– from designer Giuseppe Zanotti who once sent him a custom-built pair of sneakers, to reality TV star Kenya Moore who allegedly paid $40,000 to have D'banj pose as her boyfriend – is withering away. His recent singles have not been as infectious as their predecessors were and since Oliver Twist, not one has been as big a hit as any of those released in the era of the defunct Mo'Hits. Even G.O.O.D Music, it seems, has parted ways with the flamboyant entertainer.

In his two years' with the label, there was neither a tour with Kanye nor a major collaboration. There was the forgettable track with Big Sean and Pusha T who performed in Nigeria, the sub-par verses from Yeezy himself on the Scapegoat remix and vocal credits of a line or less on the Cruel Summer EP. Save for those and the Yeezy cameos – at the London Koko concert and in the Oliver Twist video – D'banj seemed to be on the label's roster only in name.

Was the deal worth the hype? Should D'banj have listened to advice from partner Don Jazzy and strengthened his hold on the home front before attempting to break new grounds in the US? "Looking back, it almost seems like it was a huge publicity stunt because there is really nothing to show for it", argues Arinze Obikili, US-based blogger and founder of Jaguda.com. "When you compare it with 2face who collaborated with T-Pain, and featured on another song with him and Akon," explains Arinze who is known in Nigerian social media circles as Aribaba, "and Wizkid who is rumored to be on a song with Young Jeezy and The Game, you see that D'banj pretty much wasted two good years with Kanye, going for something that he could have attempted by himself".
Furthermore, his usually high performance ratings have been inconsistent – there was the lacklustre performance in Zimbabwe where he was booed off stage as he ran out of popular songs to perform. Raise Your Glasses, the Hennessy Artistry song has not fared well. His single, Bother You, for the soundtrack of the film adaptation of Half of a Yellow Sun is as cheesy as it is unspectacular, with ThisDay writer, Ayodeji Rotinwa commenting: "Were I not judging it per its mesh with the movie, I'd call it a fine piece of sonic rubbish. I daresay it even falls under D'banj's customarily low standards." Indeed, save for that octane-level verse on the groovy remix of Naeto C's Tony Montana, nothing new from the kokomaster has really stuck.

The Koko Music Empire is on the verge of disintegration and its head honcho has turned to his business ventures to save face, launching products as random and diverse as garri and mobile phones. It doesn't end there, however. According to a reliable industry source, D'banj literally begged to be featured on songs by KCee and up-comer Burna Boy (Emmah and Won Da Mo respectively) to 'stay relevant' in the industry. Both acts established themselves as A-list stars in the three years in which Eja Nla bustled back and forth between Nigeria, the UK and the US.

Critics have argued that it might be hard for the 'ailing' superstar to survive for the next decade in the music business without descending into the dredges of obscurity. An A&R for a popular Nigerian music label posits that this may not be the case. "Even though I've questioned his relevance as an artiste a lot lately, I realize that we Nigerian listeners love 'unserious' music and D'banj is just that. He is no conscious artiste trying to save the world through music, so for that reason, he'll probably last – if he has the right team behind him".
© 2014 Nollywoodgists.com
Click the link below to go to...
Tiwa Savage Tweets About Failed Relationship
I Am Starting My Year With A Twenty One Day Fast; Stella Damascus New Year Resolution(must read)
2Face Closes 2013 Nigerian Capital Market (Pictures)
Toyin Lawani Welcomes A New Baby Boy As The Year Begins Today!
Uti Nwachukwu Donates To The Less Privilege