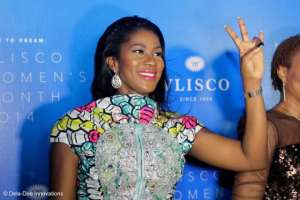 Nigerian born screen diva with an infectious personality, Stephanie Okereke-Linus was absolutely fabulous and stylish at the 2014 'Vlisco Women's Month Award' event, which held on March, 30th in Lagos State.
The beautiful Nollywood actress dazzled, in a Vlisco Ankara print custom-made knee-length dress by Nigerian designer, Mon Ami.
The alluring short-sleeved dress was designed with a large embellishment detail in front, high neck, lace and pleats from the waist down to the knee.
The charming actress and producer donned this beautiful dress with a pair of pink suede pumps, silver earrings and a silver clutch. Her loose hair and perfect finishing makeup look with pink lips, adds to her appealing outfit.
Stephanie was made The face of 2014 Vlisco campaign in relation to the fact that, she is an example of a woman who dared to dream, took risks and now, has become an inspiring role model. Today the award-winning Nigerian actress and director is celebrated throughout West and Central Africa.
The Vlisco Women's Month Award, honours the outstanding achievements of West and Central African women by identifying and rewarding those who inspire others to realise their dreams.
Vlisco nominated 3 or 4 women in each of the countries Nigeria, Ghana, Benin, Togo, Ivory Coast and Democratic Republic of the Congo for the Vlisco Women's Month Award this year.
Since 1846, Vlisco has been creating unique textiles in Holland that have influenced the fashion landscape in West and Central Africa. These textiles reflect true Dutch craftsmanship and were originally known as 'Hollandais', from the French word for 'Dutch'. Today, Vlisco is still the only brand creating authentic Dutch wax fabrics and is recognisable for its unique design, colours and wax craquelé, all of which combine to create this inspiring fashion statement, 'Vlisco, the true original'.