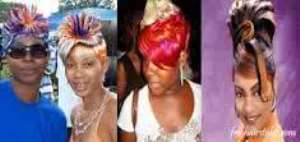 A woman's hair is often seen as a symbol of her beauty and personality. For eons, women have been using hair extensions (weaves) to enhance the natural beauty and uniqueness of their hair. Hair weaves have always enjoyed popularity among women of color.
In recent years, as more stars and celebrities begin to experiment with new hairstyles, hair weaves have become even more ubiquitous. Like hair coloring, a hair weave is a relatively easy and non-invasive way to change your appearance. but the latest trend that has C♍ε̲̣̣̣̥ to stay permanently in the fashion world is the fixing of coloured weaves or dying your weave ons yourself, it has been on and on, most of these coloured weaves are sold separately in pieces so you could fix a small part on your already black weavon but most ladies prefer rocking it in full. You can imagine who some would look combining different colours to their hair.
However, if you are considering adding a weave to your natural hair, it will be very important to explore your options and understand the different effects that certain hairstyles can have on your natural locks. It is also imperative that you take precautions to minimize the risks of damaging your natural hair and scalp.