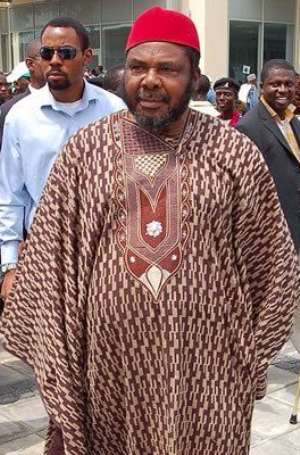 Nollywood actor Pete Edochie is a man who commands respects in Nigeria and around the world, known to be a mean and no-nonsense actor in his roles that a lot of fans believes that he is like that in real life, far from it, the actor who has been rumoured to be died many times doesn't care what is said about him and has revealed why he is the way he is.
Do you care about what the media say about you? He said "If you know me and my character make-up, I don't bother very much about what people say about me; I have my life to live. From my philosophical persuasion, I am a Fabian, and I believe that the end must justify the means.
That does not mean that you must give everything to get something, but if you make up your mind, make sure you are not obsessed with getting to step on the toes of people. It's a question of conviction and resistance. So, I wasn't bothered.
Asked why he rejects some roles, "It is not that. Let me assume that you are given the role of a very big woman, then Pete Edochie is made your driver; I come and open the car for you and I can even physically throw you up and eat you up. When I sit down as an Igwe, I radiate authority. I am not saying it to flatter myself, but I know what I represent.
There was a time I was cast in the role of a poor man, and I was trying to mend nets at the river side, and people looked at my legs and saw that my legs were so smooth and big. I have a physique that makes it difficult to play me down. If all the actors audition for a big role, I will be chosen, because nature has denied me some roles. But I enjoy the roles I am given.
Click the link below to go to...
President Jonathan Approves "Same Sex Marriage Prohibition Bill"
TV/Radio personality Tosyn Bucknor aganist Jonathan for passing anti-gay bill into law
Transgender, Ms Sahhara reacts to Nigeria's anti gay law
Pass Bill From Today Till Tomorrow Pikin Wey Go Spoil Go Spoil: See What Rap Star, Ruggedman Says About The Anti-Gay Law
TB JOSHUA SPEAKS OUT ON GAY MARRIAGE