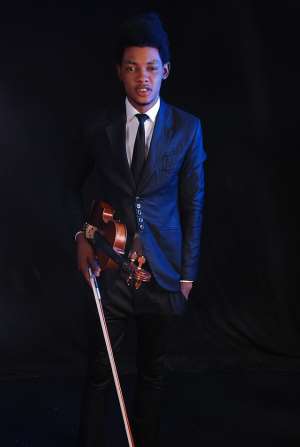 Godwin Strings, a 22-year old Violinist from Benin, is re-introducing a sound that is rarely heard and often misunderstood. Armed with a deep passion for world music and equally unforgettable attitude, Mr. Strings brings the violin to life recreating everything from Afrobeat to rock to blues.
Born Godwin Ogechukwu, he attended Gospel Music College from which he attained a certificate of proficiency in Music, and also holds a B.A Hons in Linguistics and African Languages from the University of Benin.
After making it to the grand finale of the 1st season of Nigeria's Got Talent, Mr. Strings has performed at the 2012 Koko Concert, Rhythm Unplugged, Ebony Life TV Launch, ARS Championship Match, as well as for Arsenal FC Legend Robert Pires, and for President Goodluck Jonathan.
"Jaiye Jaiye" (Vmix) - http://youtu.be/Rt2bhv3IC90
Performance for His Presidency (Part 1) - http://www.youtube.com/watch?v=uDZtzcuPnug
Godwin Strings: The Medley (Vmix) - http://youtu.be/kk7ASX32FyM
"Bugatti" (Vmix) - http://youtu.be/IyLxMXO5nTg
To watch additional performance and cover videos, visit http://youtube.com/GodwinStrings or search #ViolinMusic on Twitter. To download audio, visit http://hulkshare.com/GodwinStrings.
Facebook - http://facebook.com/GodwinStrings
Twitter - http://twitter.com/GodwinStrings
Soundcloud - http://soundcloud.com/GodwinStrings
Inquiries: [email protected] | NG: +234 816 481 8032 | INT'L: +347 878 1264 | @iamEze