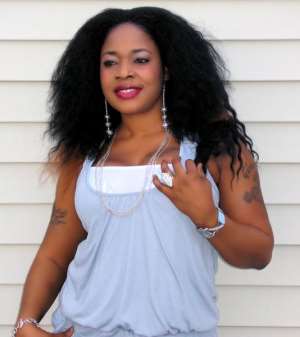 When the pictures/Video of her new x-rated movie surfaced , 41 year old mother of 2, Judith Opara Mazagwu aka Afro Candy made it clear she has no shame and doesn't care about the haters.
In this interview, she opens up on her life,what propelled to take on a music career, her plans to produce an all porn movie...and how she was r*ped and disv*rgi*ed at 19 years.
And yes guys...she is single and searching....lol
When did you come to America?
I migrated to the United States in 2005 with my 'Green Card' and was married like one year plus. And due to much envy, inferiority complex and insecurity of my former husband in Nigeria, we parted ways. But on arrival in America, life was so tough, very challenging as a mother of two. After a long while, I later took part in Hollywood films.
Are you not planning to re-marry?
I have not seen my right match since I am still in search of Mr. Right, who must be wealthy, I don't care whether he is handsome or ugly.
Is it true that you are a s3x symbol?
Right, I am a s3x symbol.
In one of your movie videos, there was a scene where a guy was on the bed where he had his hands on your nipples and your butt. Was that real?
Yeah, the romantic scenes were real. His hand was also on my ass squeezing it very hard.
You mean the guy actually squeezed your b00bs?
Of course, he really touched and squeezed my b00bs.
Do you have surgical breast enlargement?
Never, my b00bs are natural and make me beautiful, since they are full.
Does your ass compliment your shape?
Yeah, my butt is moderate and it is really a compliment to my shape because I know I am beautiful.
What is the sexiest part of your body?
Every parts of my body are sexy.