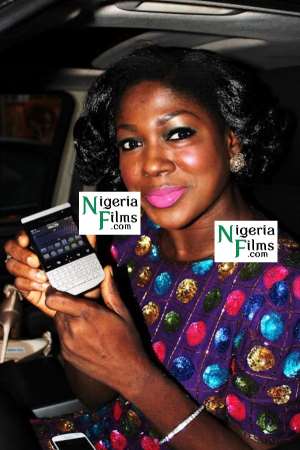 Some days ago, Nollywoodgists.com, wrote a story on Susan Peters posing with a Blackberry Porsche. The story, which has generated hot controversies, has now taken a new turn.
According to the latest development, a popular celebrity blogger (name withheld), which also did a similar story as ours, has apologised for comments made by fans on Susan Peters from the story.
In a tweet, which has now been deleted by the blogger and Susan Peters, the blogger begged Susan for doing the picture story on her.
Some top journalists and commentators have reacted to the blogger's apology. According to one of them, "this is a total mess on our noble profession.
"it is high time we started to get bloggers censored. I will recommend setting up of a regulatory body for news and information bloggers. Why would the blogger apologise for a true story?"
Another commentator reacted this way, under journalistic ethics, you don't apologise for a true story. This act is the real 'padi padi' or yellow journalism. This kind of act makes these celebrities look down on journalists and bloggers. You just have to stand your ground.
Another journalist pointed out to Nollywoodgists.com, "I have always told colleagues that the blogger is not a journalist. That is the difference between real journalists and those who rammed into online journalism. It is a pure shame to this profession.
Bet me, that blogger will become a tooth-pick and a chew gum to Susan Peters. I guess that blogger apologised so as to get something from Susan."
Another worrysome development was the initial attack on the blogger, Nollywoodgists.com and some other fans by Susan on twitter. Susan allegedly called those involved in the story as 'nonentity' and 'failed human'.
She was very quick to rain causes and abuses on everyone. To Susan, the story was purely an attack on her.
Do you think the blogger's apology was wrong? Was Susan Peters justified calling fans and bloggers 'nonentity' and 'failed human'?