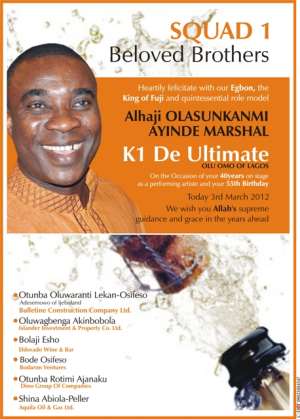 Today March 3,2012, The King of Fuji Music in Nigeria, Wasiu Ayinde Marshal turns 55 .
Born Wasiu Ayinde Adewale Omogbolahan Anifowoshe on the 3rd of March 1957 in Agarawu, Lagos Island, the young Wasiu began his career in music soon after his father died when he was just 13 years old.
He released his first album in 1980.In 1984 he released the classic album "Talazo 84″, featuring a new up-tempo and dynamic beat that was instantly dubbed the "Talazo System"The album became an instant hit and fuji music has never been the same again.

The impact of that album transformed Wasiu into a national icon, and within a few years, he had incorporated western elements into the music such as the keyboard, saxophone and guitar .
Among his many awards are FAME musician of the year, best Fuji artist at the NMA (Nigerian Music Awards) and best African artist at the WOMAD Festival in Reading 1996. In 1994, Wasiu was crowned the King of Fuji music, and officially re-named King Wasiu Ayinde Marshal the First (KWAM 1) by the King of Oyo in Ibadan.
Waisu is currently planning to celebrate his 55th birthday and 40years on stage at his new mansion in ijebu ode.
King Wasiu Ayinde has released over 120 records.
Click the link below to go to...