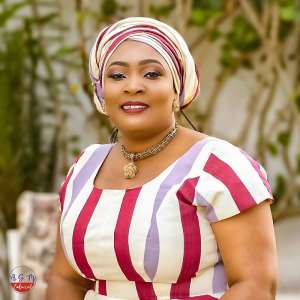 The Deputy CEO of MASLOC and Aspiring Parliamentary Candidate for Yendi, Hajia Abibata Shanni Mahama Zakariah has donated some food items to members of the NPP Communications team and other party youth groups in the Northern Region.
They received maxi bags of sugar and cartons of ideal milk to support them in this holy month of Ramadan.
The items were presented on behalf of Hajia Abibata Shanni Mahama Zakariah by her campaign team.
The NPP Parliamentary Aspirant last week made a donation of over 1000 hampers to both Muslims and Christian communities in the Yendi constituency.
Each of the hampers contained a big bag of tea, two containers of sugar, a tin of milo, 10 tins of Ideal milk, a box of oats and two mini packs of dates. She also donated bags of sugar and cartons of milk to Chiefs, Imams, opinion leaders, women groups and youth groups towards the Ramadan.
Receiving the donations, however, the Northern Regional Communications team and the various youth groups expressed their appreciation to Hajia Abibata for the unexpected gesture. The prayed to Allah to grant her the Yendi parliamentary ticket in the upcoming NPP parliamentary primaries.
They also called on other party gurus and Government appointees to pay attention to the general welfare of members of the communications team in the region to help rekindle their spirit towards election 2020.