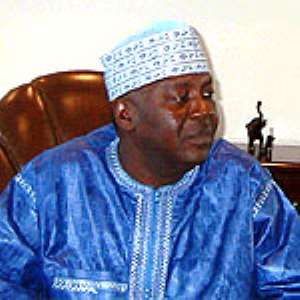 Ghana's Vice President Alhaji Aliu Mahama last Monday acclaimed the commitment of the US in the fight against global terrorism and the support of the World Super Power in the training of the personnel of the Ghana Armed Forces to improve on its combat readiness.
Speaking at a meeting with General James Jones, Commander of the US Forces in Europe at Osu Castle, Vice President Alhaji Mahama said Ghana was also making strides in peacekeeping efforts and needed the necessary push to strengthen the professional readiness for combat.
He said Ghana was a haven of peace and stability in West Africa, hence the need for the US to support the Armed Forces to maintain the status quo and spread it to the Sub-region. " I hope Ghana and the US can work together to maintain world peace", he said.
Vice President Alhaji Mahama said Ghana's excellent relations with the US was as a result of the track record of the ruling government in the governance of the country.
Dr Kwame Addo Kufuor, Minister for Defence said the US had developed interest in the keeping of security in the Gulf of Guinea and the visit of the General was part of the vision.
General Jones commended Ghana for the excellent showing in peacekeeping and expressed the need for global collaboration in fighting terrorism, drug trafficking and illegal migration of people.