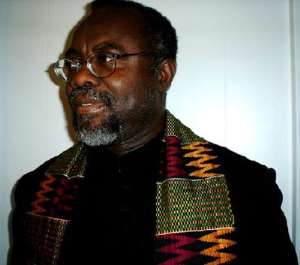 You see, the Mahama Posse wishes that Ghanaians would long have forgotten this piece of their rotten kleptocratic history, but we haven't. At least, I thought I had completely forgotten all about it until the Health Minister, Mr. Kwaku Agyeman-Manu, mentioned the fact that the 88 hospitals that President Addo Dankwa Akufo-Addo recently promised the nation would be built over the course of the next 12 months, actually began to refreshingly breathe off the drawing board only after the Xi Jinping government released some much-needed funding for the same purpose a couple of weeks ago. Hitherto, the plan was to build some 22 District Hospitals across the country because the noisemaking and all about the so-called uncompleted Mahama Hospitals, there were still a good 22 Districts across the country that woefully lacked decent hospitals.
It would be intriguing to hear the Mahama Touts come public to tell the nation precisely how many uncompleted hospital facilities are located in these 22 "Hospital-less" Districts (See "22 New Hospitals Underway Before 88 Announced – Health Minister" DailyGuideNetwork.com / Ghanaweb.com 4/29/20). I bet there is a zilch number of uncompleted Mahama Hospitals in the 22 Districts in question. I am also quite sure that Mr. Agyeman-Manu mentioned a number of these "orphaned" districts, if not all of them, during his most recent press briefing. But, actually, what I was thinking about when the "China Factor" hit the metaphorical fan, as it were, was the announcement that Mr. Mahama would be making, were he still at the Jubilee House when President Xi decided to release the latest tranche of China's Financial Aid Package to Ghana.
Very likely, it would not have inspired in Little Dramani the sort of healthcare revolution that the same inspired in Nana Akufo-Addo. We know this for a fact because in the leadup to the 2016 general election, when he took his Finance Minister with him to Beijing, I am talking about Mr. Seth Terkper here, of course, it was to solicit "wastable" funding to boost up Candidate Mahama's electioneering campaign war chest. The kleptocratic pair would be roundly and swiftly rebuffed for shamelessly and farcically daring to suppose that President Xi and his men were some bunch of blockheaded Santa Clauses or Father Christmases out to blindly dole out the hard-earned money of Chinese workers. That condign rebuff was what started the National Democratic Congress' General-Secondary, Mr. Johnson Asiedu-Nketia, resenting the guts of the Chinese with a vengeance. Hitherto, the NDC wag had even acquired a humongous piece of land somewhere in the Kasoa vicinity of the Central Region with the objective of establishing a Socialist/Community Ideological Institute, with a lot of an unspecified number of Chinese intellectuals and thinkers being invited to Ghana to instruct members of the Youth Wing of the National Democratic Congress.
You see, so intellectually fluffy were the key operatives of the NDC that they thought merely pretending to be "commies" was all that was required to get President Xi to open up his mighty wallet and blindly dole out a couple of billions of dollars of vote-buying money. I shall soon come to what Dr. Matthew Opoku-Prempeh, Nana Akufo-Addo's Education Minister, recently had to say on this subject of NDC splurging in the leadup to Election 2016 in a separate column. For now, what is more important to highlight is the fact that when it comes to any African country's relationship with Xi's China, what matters first and foremost is the deft and meticulous application of vision and common sense, the two most basic commodities that were woefully lacking when Messrs. Mahama and Terkper decided to take their grungy circus act to Beijing.
On the other hand, when the newly elected President Addo Dankwa Akufo-Addo and his astute bean-counting Vice, Lol, Dr. Mahamudu Bawumia, arrived in Beijing, barely a year later, and were asked for the existence of any development projects that could be readily funded back home in Ghana, bingo, the Visionary Pair uncovered a splendid vista of the kinds of projects that any progressive and forward-looking prospective investor would be very interested in funding. Which was precisely what happened to Nana Akufo-Addo and his hardworking, able and dedicated team of crackerjack technocrats just a couple of days. You see, the Chinese looked over the broad shoulders of Messrs. Akufo-Addo and Bawumia and readily saw that these Two Ghanaian/African Wisemen were onto something really good and meaningful vis-à-vis their objective of constructing the 22 District Hospitals, where the latter were needed most, which was the 22 Districts in the country that were in dire need of precisely what the "Development Doctor" had just ordered.
And then, lo and behold, Comrade Xi cried "Eureka!" What, Comrade?! "We just quadrupled the money for those most needed hospitals!" Then Comrade Xi added for good measure, "Should you need help with the training of doctors to staff these new hospitals, you most definitely know where to reach me by my direct cellphone number in Chairman Mao's Square." I mean, what else could you ask of a generous good neighbor and a friend?
*Visit my blog at: kwameokoampaahoofe.wordpress.com Ghanaffairs
By Kwame Okoampa-Ahoofe, Jr., PhD
English Department, SUNY-Nassau
Garden City, New York
April 29, 2020
E-mail: [email protected]