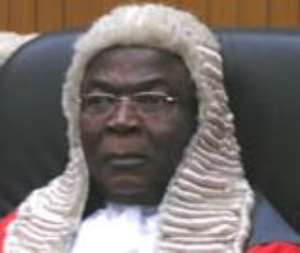 HFC Bank Ghana Limited will start collecting all payments including court fees and fines on behalf of the Judicial Service from today.
Chief Justice George Kingsley Acquah announced this at a capacity building workshop for the Parliamentary Select Committee on the Judiciary.
He said monies would no longer be paid to agents or clerks of the service because of "leakages" in the existing system.
He said a number of banks submitted proposals to the Bank of Ghana for the purpose, and HFC was selected.
Chief Justice Acquah said the new system would start in Accra and replicated later in the various regions.
Touching on delays in the administration of justice, he quoted statistics from the 2005 Annual Report of the Judicial Service and said the number of cases, from the District Courts to Supreme Court level, had increased considerably.
He said the training of career magistrates was helping a great deal, especially at the district levels to improve upon the administration of justice, adding that so far, a total of 70 career magistrates had been trained.