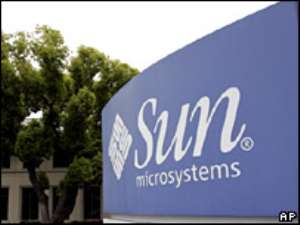 Computer maker aims to halt losses
Sun Microsystems Inc., the world's number four maker of server computers, said it will cut as many as 5,000 jobs, or 13 percent of the workforce, in the next six months as part of a plan to end almost five years of losses.
The moves will cost $340 million to $500 million, mostly in this quarter, and save $480 million to $590 million a year, Santa Clara, Calif.-based Sun said yesterday. The company also plans to sell its Newark, Calif., campus.
The changes are the biggest yet from chief executive Jonathan Schwartz, who took over from founder Scott McNealy in April. Schwartz promised a 90-day review of operations to boost profit and retake market share from Hewlett-Packard Co. and Dell Inc. McNealy had resisted staff reductions at Sun, whose servers run corporate networks and websites.
``It's positive in that Sun is finally making some cuts here, but the cuts are what we call the bare minimum," said Brent Bracelin, an analyst at Pacific Crest Securities in Portland, Ore., who rates the shares ``sector perform" and said he doesn't own them.
Sun will cut 4,000 to 5,000 jobs, or 11 to 13 percent of its 37,500 workers. The company also said it will exit leased facilities in Sunnyvale, Calif., and keep operating at its two main campuses in Menlo Park and Santa Clara, Calif. The company will cut research spending and simplify its product line, Schwartz said on a conference call.
The cuts will help Sun reach goals of ``at least" 4 percent operating income by the end of fiscal 2007 and 10 percent longer term, the company said.