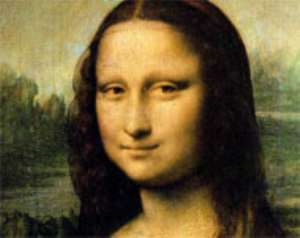 The Mona Lisa's smile may be famously enigmatic, but at least we now know what her voice was like, thanks to a Japanese acoustic researcher.
Matsumi Suzuki, the president of the Japan Acoustic Laboratory in Tokyo, said he had achieved 90% accuracy in creating Mona Lisa's voice. He has previously identified Osama Bin Laden's voice and solved murders using voiceprinting technology.
"We can create a voice very similar to that of the person concerned," Suzuki said.
"We have recreated the voices of a lot of famous people that were very close to the real thing and have been used in film dubbing."
By measuring her hands and face he estimated her height to be 168cm and created a model of her skull.
He said the Mona Lisa, painted by Leonardo di Vinci in the 16th century, would have had a relatively low voice since the lower part of her face is quite wide, while her pointed chin would add mid-pitch tones.
He brought in an Italian woman to add intonation to the voice.
Suzuki's team then pondered what the Mona Lisa would say. "We tried having her speak Japanese, but it didn't suit her image," Suzuki said.
The final decision was: "I am the Mona Lisa. My true identity is shrouded in mystery."
Suzuki's team has also tried to recreate the artist's voice, but Suzuki was less confident about its accuracy because he had to work from self-portraits where the shape of the face was hidden by a beard.
The clip can be found at http://promotion.msn.co.jp/davinci/voice.htm