No new coronavirus cases in South Korea and a potential breakthrough in the hunt for a better treatment spurred some optimism on Thursday, but catastrophic European figures underlined how much damage the pandemic has waged on the global economy.
World financial markets picked up a little on the medical and public health news, but deaths continued to mount across much of the world.
The novel coronavirus that emerged in China in December has now killed more than 227,000 people and infected at least 3.1 million people, though reporting standards vary across jurisdictions.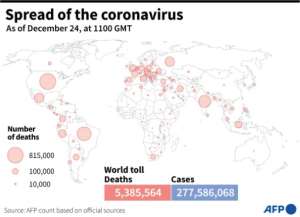 Spread of the coronavirus. By Simon MALFATTO (AFP)
The pandemic now has some of the world's biggest economies facing perhaps the most severe recession of the modern era.
Thursday brought stark official figures from Europe, where the locked-down EU economy was estimated to have shrunk by 3.5 percent in the first quarter.
Germany's jobless total soared to 2.6 million in April from 2.3 million last month, while France confirmed it had plunged into recession.
As the year goes on, the eurozone economy could shrivel by five to 12 percent, warned European Central Bank chief Christine Lagarde.
"We are facing an economic contraction of a magnitude and speed that is unprecedented in recent history," she said.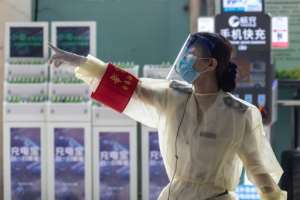 The virus first emerged in China late last year but has now killed more than 227,000 globally and infetced at least 3.1 million. By STR (AFP)
The European Union's commissioner for the economy, Paolo Gentiloni, similarly dubbed the situation "an economic shock without precedent in modern times".
The Eurostat agency said the first quarter contraction was the most severe since its statistical series began in 1995.
And Germany, Europe's biggest national economy, "will experience the worst recession in the history of the federal republic" -- founded in post-war 1949 -- Economy Minister Peter Altmaier warned, predicting it would shrink by a record 6.3 percent.
Test and trace
Markets nevertheless climbed cautiously higher on Thursday -- buoyed by news from Asia, where some of the formerly worst-hit countries have begun to reopen their economies and rebuild everyday life.
There was also some positive news out of the United States, where scientists reported hopeful results in trials for an anti-viral drug.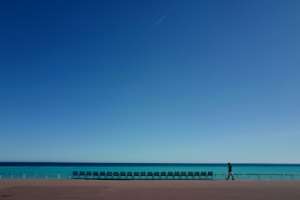 The French economy fell into a recession after contracting more than 5.8 perce tin the first quarter. By VALERY HACHE (AFP)
South Korea, where COVID-19 was detected in mid-February and for a period had the world's second-largest outbreak, reported zero new infections for the first time, suggesting its aggressive test-and-trace strategy is working.
"This is the strength of South Korea and its people," President Moon Jae-in said as he announced the milestone.
South Korea's death toll is around 250 -- vastly lower than that of Italy, Britain, Spain and France, which have each recorded at least 24,000 fatalities.
The United States tops the table with more than 61,000 fatalities, a third of global deaths.
Spain may be past the worst of the crisis, however, and is among the European countries planning a staged return to normal economic and social life next month.
It recorded 268 deaths on Thursday, the lowest daily toll since March 20.
But in Russia, coronavirus cases surged past 100,000 on Thursday and officials warned that infections had not yet peaked as they extended lockdown measures.
Stuck in cramped flats and struggling with fears of the coronavirus and its economic impact, many Russians are worried about the return of an old demon.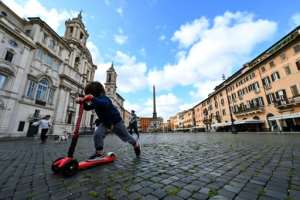 A child rides a scooter in an emptied-out square in Rome. By Andreas SOLARO (AFP)
"When I found myself alone at home, the first thought I had was 'ah, it's a good time to get drunk'," says Tatyana, a recovering alcoholic on lockdown in Moscow.
Iran is also still suffering a serious outbreak. The number of deaths in the country officially passed 6,000 on Thursday.
But Italy, once the world centre of the outbreak, said Thursday it was hoping to reopen two major airports next week, after a nationwide lockdown expires on May 4 and restrictions begin to be lifted.
The return to work will be cautious, however, and Italy's Prime Minister Giuseppe Conte Thursday criticised some regional chiefs for defying the government and lifting lockdown measures early.
"We cannot allow the efforts made to be in vain because of rashness at this delicate stage," he said.
"Moving from the policy of 'let's close everything' to 'let's reopen everything', would risk irreversibly compromising these efforts."
'Clear-cut effect'
Meanwhile, in the first evidence of successful treatment, a US clinical trial of the drug remdesivir showed that patients recovered about 30 percent faster than those on a placebo.
"The data shows that remdesivir has a clear-cut, significant, positive effect in diminishing the time to recovery," said Anthony Fauci, the top epidemiologist in the United States.
Fauci likened remdesivir to the first retrovirals that worked, albeit with modest success, against HIV in the 1980s.
But it is a treatment, not the much-sought-after vaccine that might allow the full removal of restrictions that have put half of humanity under some form of lockdown.
The US announced Wednesday that economic output collapsed 4.8 percent in the first quarter -- ending more than a decade of expansion. Neighbouring Mexico's GDP shrank 2.4 percent compared to the same period last year.
The International Labour Organization said half the global workforce -- around 1.6 billion people -- are in "immediate danger of having their livelihoods destroyed".
burs-dc/jv