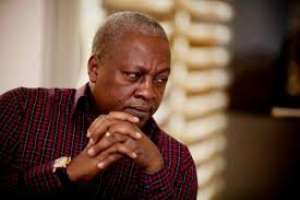 The NDC party's flagbearer, HE John Dramani Mahama, has played innumerable leading roles in the fight and struggle against the COVID-19 pandemic, against the backdrop of his detractors, nicknaming Him - "The alternative is empty."
His actions and inactions spoke volumes to the ordinary people of our country. He's shown that he cares for the people. He's exhibited a leadership reediness to occupy the highest office of our country, and also, as a mover and shaker.
.
Commendable and notable amongst John Mahama's recent contributions towards the fight against Covid-19 is when he committed resources amounting to a whopping sum of 350_000 to fight the covid-19 pandemic. Prominent among his leadership qualities, is, he, without any hesitation, quickly, forming a team of experts, on the NDC side, to augment government efforts to help deal with the Coronavirus menace. Such is a mark of leadership and a leader, of can-do- spirit.
A leader, whom his detractors labeled as not been proffering solutions and nicknamed severally, is, today, at the forefront of the pandemic, and not only playing key roles in the fight against Covid-19, but also, committing a substantial amount of resources, expertise and providing some alternative suggestions to the government to implement.marks him as a decisive leader, and a patriotic person.
John Mahama, as an opposition leader, coupled with meager resources, was able to donate PPE to all the ten regional hospitals across the country. Wow! How fantastic! it's to see an opposition leader doing this? The donation will help in no small way, to boost Morales of our frontline healthcare practitioners. As the country's health system is working under an ill-equipped workforce. It will also tool them to stand toe to toe in the fight against Covid-19
Korlebu teaching hospital wasn't left out from the benevolence of John Manama, as the Kumasi- based star hospital received some sizeable quantities of PPE to fight Covid-19 spread, in the garden city, of Ghana.
Snippers of information, hinted, that John Mahama's popularity, has soared, which hitter too, was mirrored by NPP's propaganda, concerning the Airbus scandal. Some movers and shakers, in Ghana, particularly political commentators, opinion leaders, and the media, this writer went underground, and noosed for some information, concerning chances of John Mahama, in the coming elections 2020, all agreed, albeit reluctantly, that as put by one of them when I asked him about John Mahama's chances of winning this year's election . He loosely said as this- "
Look the corridors of power is not in the best of mood seeing and hearing about John Mahama"s sudden rise to stardom within this shortest time."
One also captured it this way: " John will win,with a big margin."
John Mahama, you could recall was lambasted, lampooned, and criticized for building infrastructure from 2012, leading up to 2016. But as visionary, as he is, he defended the use of such building of infrastructure.
Today once can say without a shred of doubts that he's been vindicated. The building of mega hospitals was his stock in trade and major signature projects. The Legon mega- teaching hospital, the Bank of Ghana hospital, and a host of others cannot be labeled as white elephants as they were erroneously being called.
Today, in the fight against Covid- 19, all the aforementioned hospitals above have become the cornerstones, where our people are quarantined. Thanks to John Mahama's farsightedness. Had these empty hospitals not available for use, the government would have been strenuously running round to build emergency shelters which would have proven arduous a task, to accommodate people.
Manama is ready to lead again and one can see it in him this time around. He's proven all pundits and critics wrong and girding himself for the battle to wrestle power from Nana Addo.
From all political lenses, gauge or yardstick used to measure a person's political suitability, readiness, right -conditioning to lead, point to the fact that the Bole -Bamboy folk, Mahama is cut out for the task, once again, to take Ghana to our destination destined for us by our forebears.
I strongly believe and belong to the rancorous school of thought that John Mahama, should be given yet another chance to steer the affairs of this country. I'm convinced beyond a reasonable doubt that his model of development( infrastructure), is what Ghana needs, in the 21st century Ghana, and not what we're seeing today, from the Nana Addo led regime.