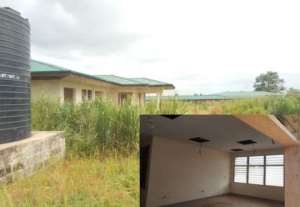 A card bearing member of the opposition National Democratic Congress, Japhet 1 as he is popularly known has described as a gross display of incompetence and wickedness on the side of governing New Patriotic Party for abandoning an 80-bed hospital and ultramodern District Magistrate Court projects in the Akatsi South District.
A displeased Japhet 1 bemoaned that the deteriorating sites, surrounded by weeds and unused building materials, is unfortunate and will cause the state more money to fix them in the coming days.
According to him, the government has no excuse, whatsoever, for not continuing these projects started by the previous government.
To him, it is a sign of wickedness explaining that such important facilities should not be politicized.
This is what the NPP inherited, not a single block has been added to it. You have a mandate of four years and you have done three years four months and you are still giving excuses of completing these multi-billion projects started by your predecessor and it is sad to note that we are left with less than 8 months for you to end your tenure in office and you are now promising another 94 new hospital projects whilst those the NDC and former President John Dramani Mahama started are left to Rot nationwide.
The facility which is said to be 70 percent complete has male and female wards, Central Supply and Sterilisation Department, laundry, theatre and a mortuary. Checks by the news team show that some parts of the building are fast deteriorating and needed urgent attention.
Lamenting to the media on the predicament, Japhet disclosed that the district can only boast of one Health Center because what they have been referring to as a district hospital hasn't qualified to be called as such more also it has been manned by just a few medical doctors.
There are fewer health personnel who help the doctors run the so-called District Hospital and this is part of the reasons why the NDC brought the expansion project but we are so wicked enough to leave it to Rot after Change of Government.
Speaking to the media, Japhet said the District Chief Executive, Hon. Leo Nelson Adzidogah must be up in his dealings so that he gets the newly Constructed Magistrate court project completed and well furnished for the betterment of the District before things get out of hand.