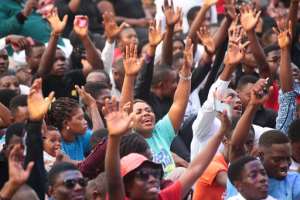 1. Let us preach and practise love among ourselves and extend same to others. Miracles, signs and wonders can only attract people to our message but love is what would keep them.
"A new command I give you: Love one another. As I have loved you, so you must love one another. All men will know that you are my disciples if you love one another." John 13:34-35
2. Filling our churches is good but we should remember that our main mission is to make disciples. The Great Commission has been entrusted into the hands of disciples. Church membership is only a means to an end.
"Then the disciples went out and preached everywhere, and the LORD worked with them and confirmed his word by the signs that accompanied it." Mark 16:20; Matthew 28:19-20
3. The church cannot continue to depend on tithes, offerings, seed sowing and pledges alone to finance our activities. It would be wise and prudent to diversify by creating other sources of income.
"And the LORD GOD took the man and placed him in the Garden of Eden to dress it and to keep it." Genesis 2:15
4. We must teach messages that encourage delayed gratification (diligent and dignified labour) and scale back on messages that encourage instant gratification (receive it now).
Proverbs 12:24, "Diligent hands shall rule: but laziness ends in forced labour."
5. We must make Jesus the focus of our preaching. In other words, our message should be "Christ and Him Crucified." 1 Corinthians 2:2
6. We must create and encourage a culture of openness, accountability and integrity in our general operations especially in the area of finance. Wealth in the church must not be shrouded in secrecy.
"What I say to you in the darkness shout it out for all to hear." Matthew 10:27
Acts 20:33, "I have not coveted anyone's silver or gold or clothing."
7. Full-time Ministers must be encouraged to leverage their professional skills to create additional and supplementary income to sustain their households.
"You yourselves know that I work with my own hands to provide for my own needs and those of my companions." Acts 20:34, 1 Corinthians 4:12, 1 Thessalonians 4:11
8. There are over 20 time honoured principles on how to create wealth. Train yourself in them and teach them to your church members. "Wisdom is supreme; therefore get wisdom. Though it cost all you have, get understanding."Proverbs 4:7
9. Build the Berean culture in your church. Jesus said to watch and pray and it takes a congregation that is biblically and doctrinally sound to detect false teachers and prophets. Acts 17:11
10. Last but not the least, we must not teach our congregation to be heaven conscious only but also to be earthly relevant. Jesus said, "occupy till I come." Luke 19:13b
Be inspired. PKP
Credit: New International Version