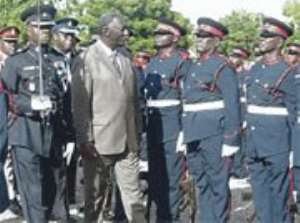 At least 11 people, all male, died by drowning within the jurisdiction of the Tema Regional Police Command between January and May this year, according to the Tema police records.



The Regional Public Affairs unit has therefore warned that all those who visit our beaches should abide by swimming regulations and desist from consuming or abusing alcoholic drinks before swimming, or swimming beyond the range of 'red flags'.
They have also appealed to parents and the general public to be mindful of open drains and trenches, and ensure that those responsible for the covering of such drains and trenches do so.
The police have also warned all who are fond of swimming or walking in floodwaters, doing what they term 'treasure-hunt', to desist from the habit.
In a press statement released in Tema last Friday and signed by the Tema Regional Police's Public Affairs Officer, Chief Inspector Yaw Nketia-Yeboah, the police also advised all parents, especially mothers, to cover all large pans or barrels used to store water to protect their infants from domestic drowning.
According to the statement, on April 5 at about 4.00am, Stephen Asare, a 36-year-old labourer at the Ghana Dock Company Limited, who was engaged with others to load some empty containers onto the vessel, Birte Ritscher at Berth four, fell from the spreader to the edge of the platform, slipped into the sea and drowned.
The body was retrieved at about 10am the same day by divers from the Ghana Ports and Harbours Authority (GPHA) and deposited at the Korle-Bu Teaching Hospital mortuary.
"On May 13 at about 3pm, Kwabena Boateng, 17; Kwasi Bubase, 19 and others went to the Number Five beach at the Tema Fishing Harbour to swim. The two juveniles got drowned, but their bodies were washed ashore later in the day," the statement indicated.
It further indicated that on April 27, an unidentified 35-year-old man who was responding to nature's call on the Sea Defence Wall at Wharf Ten, slipped into the sea at the Tema Main Harbour and his body retrieved two days later after it was seen floating on the sea.
The bodies of Buertey Otutsuam, a 15-year-old Tema student, Michael Ansah, 46, and James Awuni, 22, were washed ashore at the Elevanyo beach at Ada-Foah on January 5, Titanic beach, Sakumono, on January 10 and Tema Fishing Harbour on February 6, respectively.
Kojo Ghartey, 8, fell into a manhole near his house at Ashiaman; Daniel Wuche Chukwu, 9, and Theophilus Appiah, 17, drowned in a dam at Zone 2, Lebanon in Ashiaman on May 1 and IDA dam at Zenu, also at Ashiaman, respectively, whilst Sumata Mustapha, 23, was carried away by a swift current after a heavy downpour when he and two others attempted to retrieve a floating box from the water.
"They were swept away by the swift current. Two others managed to get out at about 150 metres downstream but Mustapha got drowned," the statement said, adding, "A search party organized to trace the body was unsuccessful".