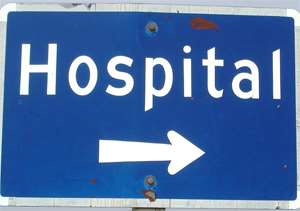 Following the President announcing a plan to build 88 new district health facilities across the country during yesterday's press briefing on progress of work on curbing the deadly Covid-19, NDC propagandists, as expected, have gone insanely berserk.
These NDC propagandists and I believe their leaking-think-tank, prepaid journalists and illiterate radio/TV presenter collaborators who are obviously on the starting-blocs to joining the cacophony bandwagon, are making two claims:
1. The projects announced by the President are not actually because funding was not captured in the 2020 Budget Statement.
2. The timeline for completion goes beyond the president's first four-year tenure of office.
With concern number one: the expenditure currently being borne by the State in respect of procuring PPEs, Ventilators, Test Kits, feeding the vulnerable, 3-month free water and 50% cut on electricity bills nationwide, cost of logistics for personnel of our security agencies to police the lockdown rules and so on, were all not captured in the 2020 budget statement.
With concern number two: the man John Mahama who was booted out of the office with a humiliating margin of over one million votes, only 3yrs ago, is desperately staging a comeback.
However, Nana Addo Dankwa Akufo-Addo, the man presently in the driving-seat is prohibited from projecting into his second mandate? Are we running a single 4-year term of office presidential system?
And haven't these NDC insipid propagandists ever heard John Mahama claiming he was booted out of office when he had some projects still ongoing? Why didn't he time everything he was doing within his 4-year term, besides those left-over years of Atta-Mills' tenure?
Indeed, even a president coming to the end of his/her second term of office will still make projections beyond his tenure; that's what's meant by the concept of PROCESS OF CONTINUED GOVERNANCE.
These mindless insipid propagandists should, therefore, learn to cut out their irredeemably destructive and needlessly pedestrianism; and be decently academic in their arguments, vis-a-vis issues of national importance.
GOVERNANCE IS NOT AN ENTERPRISE OF CLOWNS ON DISPLAY IN A CIRCUS, BUT A SERIOUS BUSINESS BORDERING ON MOBILIZING RESOURCES TO ENSURE ENHANCEMENT OF PEOPLE'S WELFARE, THROUGH PATRIOTISM, PRUDENCE, ACCOUNTABILITY, AND INTEGRITY.
Newton-Offei Justice Abeeku
email: [email protected]